What is the intercultural center for inclusion (Ici)?
The ICI offers programs and events throughout the year that provide education to the Ivy Tech community, supports students of color and celebrates faculty, staff and students' achievements. This is done through activities such as workshops, presentations, financial mentoring programs and more.
Reserve the Space
The ICI is a part of the community's success, growth and more. Reserve the space for a meeting, event or partner with Ivy Tech for a collaboration.
Artwork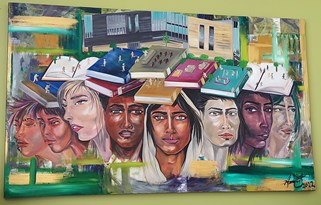 Housed at the ICI, the artwork of Anwar Ruhma Fraizer exemplifies the essence of Ivy Tech and our students. Stop by and see the amazing details, vision and skill put into this masterpiece.
Programs at the ICI
Black Student Association (BSA)
The ICI serves as the official meeting space for the Black Student Association. Ivy Tech Muncie Campus Black Student Association promotes proactive leadership, community outreach and student empowerment. We embrace our cultural heritage, unity and the appreciation of diversity.
ICI Tutoring
ICI Tutoring will be held on a weekly basis throughout the Fall and Spring semesters. These sessions are open to all Ivy Tech students and will have a dedicated tutor present to provide tutoring. The weekly sessions will be announced on a monthly basis.
Ivy Parents Achieve Success with Support (I. PASS)
"So many students have explained that being a single mom is both the reason they desired to be successful in college and the reason they could not." ~ Alisa Wells, Executive Director of Community Engagement
Through extensive research, Ivy Tech learned that some of the barriers inhibiting student parents from completing their degree is lack of support. To address these needs, Ivy Tech has created teh ICI to be a one-stop resource center where parent learners are welcome to bring their children and access support outside of the classroom. 
Parent Cafe
Parent Cafe is a monthly event offered to Ivy Tech students who identify as a parent. Each cafe features a special guest speaker and spotlights a different parenting topic. Parent Cafe is held at the ICI and light refreshments are provided. Children are welcome and parents can utilize the safe children's area located inside the ICI. 
Date: 2nd Thursdays
Time: 5:15 - 6:15 p.m.
Thrive Center 
The Thrive Initiative fives hardworking, yet financially-struggling individuals and families in Delaware County the tools, resources and support they need to build a better financial future. 
Monthly workshops are held by Thrive Coach, Carol Jackson. Schedule today for a free individual coaching session.