About the Implementation & Compliance Team
The purpose of the Implementation and Compliance Team is to take the Campus's big ideas and implement them while ensuring that the impacted departments are involved, College policies are followed and all governing bodies stay informed.  
The team has a clear mandate for action-oriented steps toward change, has a clear structure that allows for all members to be fully involved, and is comprised of individuals with complementary skills and perspectives.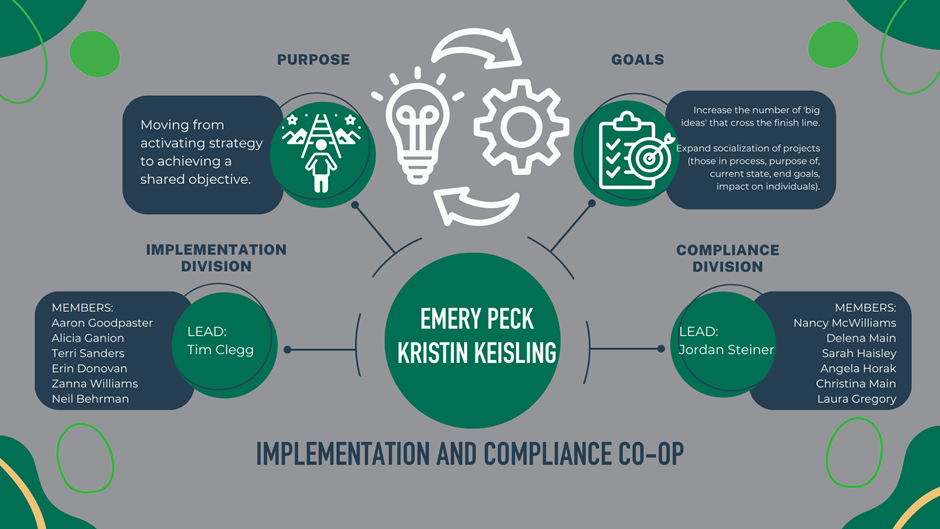 Administration
Emery Peck
Vice Chancellor for Academics, Innovation, Operations, and Strategy
epeck7@ivytech.edu
765-289-2291 ext. 1220
Kristin Keisling
Vice Chancellor for Finance and Strategic Compliance
kkeisling@ivytech.edu
765-289-2291 ext. 1222
Team Leads
Tim Clegg, MBA
School of Business Faculty
tclegg1@ivytech.edu
765-289-2291 ext. 1750
Jordan Steiner
Director of Strategy and Economic Impact
jsteiner3@ivytech.edu
765-289-2291 ext. 1648
Project Submission
Do you or your team have a project that needs assistance from the Implementation and Compliance Team? Click the button to submit it today!
Current Projects
PDI Reformation
IVY Residency
Upcoming Projects
College and Career Concierge: Pathways to Opportunity (C3PO)
The concierge service will offer potential Ivy Tech students with advice, guidance, connection to resources, and recommendations on courses, colleges, careers, and more. The team will respond to email inquiries from potential students and respond with the appropriate course of action. 
General Questions or Need More Information? Contact the Team: