Contact Us!
3501 North First Avenue Room 228
Evansville, IN 47710
(812) 492-0336
Monday-Friday:  8:00 AM – 5:00 PM
Saturday & Sunday:  Closed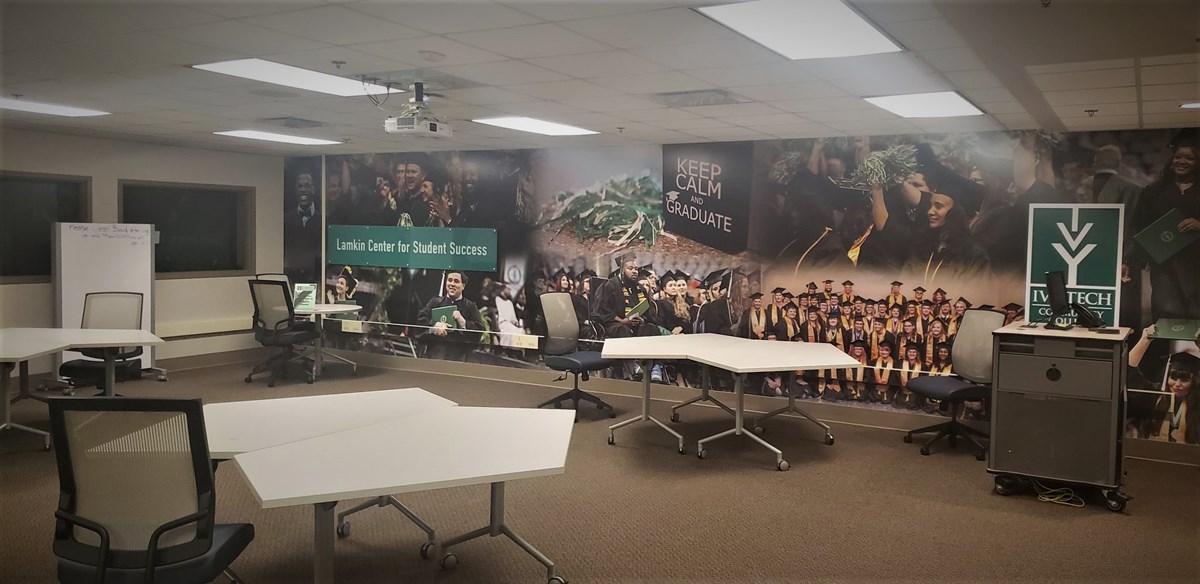 Connect with the Lamkin Center regularly to...
Adjust to college life
Build effective study skills
Participate in Student Success Workshops
Build motivation and perseverance
Get connected with Ivy Tech internal resources
Connect with community-based resources
Connect with Ivy's Closet
Connect with Mental Health counseling
Explore the IMPACCT Scholars programs
Participate in the STAR Program
Discuss Ivy Cares and the Student Emergency Aid fund
Identify and overcome obstacles and setbacks to academic success
Maintain work-life-school balance
Strengthen self-awareness 
About the IMPACCT IVY Scholars
The IMPACCT (Integrated Mentoring Program Achieving College and Career Transformation) Ivy Scholars Program is a scholarship and academic enrichment program that assist students that face barriers to college success by helping them reach their academic and professional goals. IMPACCT Ivy Scholars are given the tools to be successful through workshops, mentoring, and individualized coaching. Participants will also be able to use career specific skills to give back to the college, peers, and the community. Below is a list of everything that program participants will have available to them!

Service Learning Opportunities

Monthly Enrichment Programs ( Career, financial, and academic success workshops)
Tutoring
Financial Assistance (up to $3000)
And much more!

Eligible participants must meet the following criteria:

Students from historically marginalized groups (People of color, LGBTQ+, etc)
Students with dependents of which they care for 
Students that have history within the foster care system or wards of the court. 
Students with a lack of familial support. 
Students with disabilities or neurodivergence. 
Students with a lack of financial support.
Students with other unknown barriers to success

Any students meeting this criteria must have completed at least 6 credit hours, hold at least a 2.0 GPA, and be in good financial/SAP standing.

Program Requirements:
All IMPACCT Ivy Scholars must meet the basic program requirements and uphold these responsibilities in order to excel and maintain in the program. Attendance in these services will be tracked by the coordinator utilizing sign in sheets and tracked though IVYlearn. Lack of participation can result in removal from the project and revocation of scholarship. These requirements will be documented in their PEP:

Monthly requirements

1-on-1 meeting with IMPACCT Coordinator
Participate in Peer Group Meetings every 2 weeks
Enrichment Activities
Coordinated by the IMPACCT Coordinator, Lamkin Center, or other approved office on campus

Semester requirements

1-on-1 meeting with Academic Advisor
1-on-1 meeting with CareerLink Coach
Meeting with Financial Aid
One–on-one or Workshops
Participate in one Service Learning Activity

 

Click Here to Apply for the Program



Questions? Contact:


Miranda Hamner, Administrative Support Clerk 
812-492-0324  | mhamner1@ivytech.edu 
3501 N First Ave Room 108, Evansville, IN 47710  |  Lamkin Center Room 228




Everyone needs a little help sometimes, and Ivy Cares is here to provide additional support to you throughout your academic journey. Call (812) 492-0336 for assistance with wraparound services and community referrals such as housing, food and clothing banks, bus tickets, child care, and low-cost medical care. For more information visit our dedicated site at: Ivy Cares

Ivy's Closet Ivy's Closet is a food pantry where nonperishable food items and personal supplies may be obtained by students, faculty and staff who find themselves in financial difficulties or in emergency situations. Participants are asked to complete a short application and intake process with a Student Success Advocate. For more information, please call
812-492-0336, stop by room 228, or request here.

Are you looking for ways to be more successful this semester? Attend any of our Student Success workshops. These workshop sessions will help you with study tips, time management skills, best practices for exams, relaxation, meditation, anxiety, and much more.