Awarding $1,000 to Four Students Each Year
About the Scholarship
The Teresa Lubbers Next Step Endowed Scholarship has been established to recognize Teresa's longstanding career leading postsecondary access and attainment efforts aimed at improving the lives of Hoosiers and strengthening Indiana's economy. The Teresa Lubbers Next Step Scholarship will encourage working Hoosiers to take the next step in their careers leading to economic mobility and meeting Indiana's greatest workforce needs.
Four (4) $1,000 scholarships will be awarded to Ivy Tech students on an annual basis. Scholarships may be renewed for one additional year. Scholarships will be used to reduce any unmet financial need and can be applied to any eligible college expenses (e.g., housing, transportation, childcare, and other personal expenses).
About Teresa Lubbers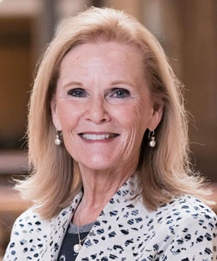 In July 2022, Teresa Lubbers was appointed as the new President of the Sagamore Institute, a solutions-oriented think tank based in Indiana. Teresa served as Commissioner for Indiana's Commission for Higher Education, the coordinating agency charged with ensuring the state's postsecondary education system is aligned to meet the needs of students and the state from 2009 - 2022. Prior to leading the Commission, Teresa served in the Indiana State Senate for 17 years, leading on education and economic development issues as Chair of the Senate Education and Career Development Committee and past Chair of the Governor's Workforce Cabinet.
Teresa also has demonstrated national leadership through various appointments. Teresa served as a Commissioner for the Education Commission of the States, a member of the Board for the Council for Adult and Experimental Learning, past Chair and member of the State Higher Education Executive Officers and the Midwestern Higher Education Compact. Teresa is past Chair and a current member of Higher Learning Advocates.
Teresa is a tireless advocate for improving postsecondary attainment and student success. She makes earning a quality credential beyond high school a true reality for Hoosiers and non-Hoosiers alike through her advocacy, higher education policy reform and strategic collaborations with several higher education initiatives that aim to strengthen state-level higher education reform and amplify promising practices.
Scholarship Details & Deadlines
Criteria
According to the Indiana Career Ready website, Education and Healthcare industries are in high demand. To meet the pressing workforce needs of the state, the Teresa Lubbers Next Step Scholarship will prioritize Education and Healthcare programs. Applicants who have already received a certificate or stackable credential in Education or Healthcare are encouraged to apply.
Eligibility
Applicants must meet the following eligibility criteria:
Must have earned a High School Diploma or High School Equivalency (HSE)
Must have filed a Free Application for Federal Student Aid (FAFSA)
Must be enrolled as an Ivy Tech student
Must meet Satisfactory Academic Progress (SAP) requirements
Must be enrolled in an Education or Healthcare program
Preference will be given to applicants who have already received a certificate or stackable credential in an Education or Healthcare program and who reside in the Indianapolis service area with priority given to applicants who reside in Warren Township, City of Indianapolis, Marion County, Indiana service area.
Application Requirements
Applicant Information – Basic contact information, education information, etc.
Applicant Essay – Respond to the following question: "What drives your interest in earning an Education or Healthcare degree? What does the Next Step Scholarship mean to you?"
Letter of Support – Letter of support from a teacher, coworker, supervisor, friend, or family member.
Deadlines
May 15, 2023 – Application deadline at 5:00 pm Eastern
July 1, 2023 – Award Notification
Find Local Financial Aid Contact Info