WHAT IS FINANCIAL AID?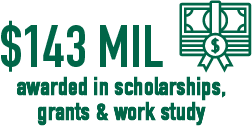 Financial aid is money to help pay for college or career school. Whether your goal is finding a career after graduation or continuing on to a four-year university, getting financial aid can help you pay for college now and finish with little to no debt or a more manageable payment plan. Financial aid includes scholarships, grants, work-study, and loans—all of which help make college more affordable.
Ivy Tech is Here to Help
Attending college can be a big financial decision for you and your family. Finding financial aid can seem overwhelming when you're trying to get ready for college. Ivy Tech's financial aid advisors are here to help you and your family get the money you need to pay for your education.
WHO QUALIFIES?
The federal government's general eligibility requirements include that you have financial need, are a U.S. citizen or eligible noncitizen, and are enrolled in an eligible degree or certificate program. Eligibility requirements for state, institutional, and private aid vary.
View more about who qualifies for financial aid
Everyone's financial situation is different. Most students qualify for some form of financial aid. Whether you come from a military family, have stellar grades, or demonstrate financial need, there are loans, grants, and scholarships that are designed to help you achieve your goals.
How "Need" is Calculated
Most financial aid is awarded on the basis of "need," or the gap between a student's cost of attendance and the "expected family contribution." 
Types of Financial Aid
Ivy Tech offers many ways to save on your education including gift aid options such as scholarships, grants, and various fee remissions that you don't need to pay back.
| | | |
| --- | --- | --- |
| Scholarships | Scholarships are a form of gift aid—free money—that does not have to be paid back | |
| Grants | Grants are also a form of gift aid—free money—that does not have to be paid back | Learn More |
| Work-Study | A work-study job allows you to earn money to pay for school by working part-time on campus | Learn More |
| Student Loans | Student loans are borrowed money (like a car or home loan) that must be paid back with interest | Learn More |
| Fee Remissions | Need-based waiver of fees, administered at campus-level |   |
Sources of Aid
Federal Government

Grants: Pell Grant, Supplemental Educational Opportunity Grant, Proteus, Inc./Department of Labor Grant
Work-Study: Federal Work-Study for on-campus jobs
Loan: Federal Direct Loan Program

State Government

Scholarships: 21st Century Scholarship, Mitch Daniels Scholarship, see more
Grants: Frank O'Bannon Grant, Workforce Ready Grant, Indiana National Guard Supplemental Grant, Adult Student Grant
Fee remission grant: Child of Veteran and Public Safety Officer Supplemental Grant Program
Work-Study: Employment Aid Readiness Network (EARN) Indiana

Ivy Tech (Institutional Aid)

Ivy Tech scholarships: offered at campus and community levels
Fee remission grant: Ivy Tech Grant (need-based)

Private Sources

Scholarships are available from non-profit and private organizations, foundations, businesses, etc. on a national and local level. See local scholarship opportunities
Loans available from some foundations 
NAVIGATING THE FINANCIAL AID PROCESS
FREE APPLICATION FOR FEDERAL STUDENT AID
The FAFSA is the Free Application for Federal Student Aid and is the only way to apply for federal student aid. Ivy Tech will use your FAFSA application to evaluate your financial need and determine how much federal aid, state aid, and aid from Ivy Tech you are eligible to receive.
Submitting the FAFSA is the most important thing you can do if you want financial aid.
The FAFSA is free—you don't need to pay anyone to prepare it for you.
Make sure you fill out and submit the FAFSA each year are in college. If you plan to apply for aid throughout college, you'll need to fill out the FAFSA every year.
The FAFSA asks for information about you and your family's finances, including tax returns. You may be able to automatically retrieve your tax information from the IRS.
Be sure to use a permanent email address on the form, not your high school email, so you can use your FAFSA account throughout college.

FAFSA FILING DEADLINES
Each October, the FAFSA is available for the next school year. You can file as early as October 1. It's a good idea to submit the application as soon as possible because some financial aid is given out on a first-come, first-served basis.
There are three types of FAFSA deadlines:
Ivy Tech deadlines: Ivy Tech has established a list of priority filing deadlines that ensure you receive your financial aid before the first day of classes. View the priority filing deadline chart below.
State deadlines: Indiana's FAFSA deadline for applying for aid from the state is April 15.
Federal deadline: Federal aid will be considered year-round, no matter what date you file your FAFSA. June 30 is the last day you can apply for federal aid for the following academic year.
IVY TECH PRIORITY PROCESSING DATES
To ensure you receive financial aid before your first day of classes, you must complete your Ivy Tech application and submit your FAFSA (including all requested forms and verification paperwork) by the priority processing dates listed below. Students who have all of their financial aid requirements completed by the bookstore priority dates below will have their aid available to use at the bookstore the first day it opens.
To apply for financial aid, submit a Free Application for Federal Student Aid (FAFSA). Plan to begin the financial aid application process at least 3-4 weeks before the priority processing date (for example, in early June for the fall semester). You may apply for federal financial aid throughout the year, but meeting the priority date gives Ivy Tech the necessary time to award your financial aid by the start of the semester. If the semester priority processing date is missed, your application will still be accepted and processed. although aid may not be available by the beginning of classes.
| | | | |
| --- | --- | --- | --- |
|   |   | BOOKSTORE PRIORITY DATE | Priority processing date |
| Term | Start the financial aid process by: | To use aid in bookstore the day it opens, submit by: | To ensure financial aid is available by start of semester, submit by: |
| Fall I (first 8 weeks) | June 1 | June 15 | July 1 |
| Fall II (second 8 weeks) | August 1 | August 15 | September 1 |
| Spring I (first 8 weeks) | November 1 | November 15 | December 1 |
| Spring II (second 8 weeks) | January 1 | January 15 | February 1 |
| Summer | April 1 | April 15 | May 1 |
Managing Your Financial Aid
Find Local Financial Aid Contact Info
Questions about Paying for College?
Ask an Ivy Tech Financial Advisor
Our Financial Aid Advisors are here to help you assemble your budget and remove any barriers that may stand in the way of your college goals.


Find Your Local Financial Aid Rep