Supplier Diversity and Support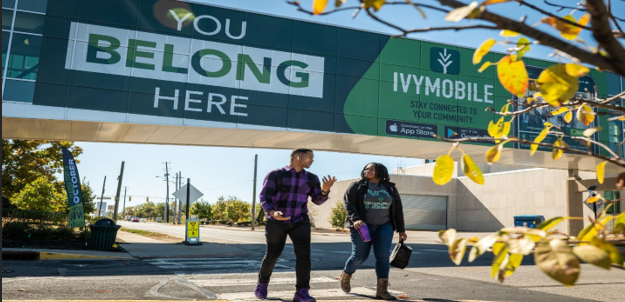 Who we are:
At Ivy Tech, we are committed to Supplier Diversity, inclusion, and development. We value diverse and small businesses; they are vital to the growth of our economy and communities. Our goal is to provide maximum opportunities and maintain competitiveness within our marketplace. Ivy Tech spent over $12 million across 113 IDOA-certified or VA-certified vendors in FY 2020, accounting for more than 17% of our total in-scope spend
Our goal is to continue to create ways to promote opportunities for small businesses through direct spending and encourage partnerships with our Tier 1 suppliers.
We are proud of building our diverse supply base and expanding it. Come grow with us!
Read about our economic impact statewide.
Read about our economic impact here:
Certifications 
Indiana Code 4-13-16.5 created the Governor's Commission on Supplier Diversity. The commission members are advocates for Minority, Women's, and Veteran enterprises in state contracting and are active in their respective regions to assist in achieving the MWBE and IVOSB goals for the State of Indiana. Ivy Tech Community College proudly partners with the state in advocating for our disadvantaged businesses
Ownership / Classifications
Minority Owned or Minority Business Enterprise (MBE)
A business concern that is at least 51 percent owned by one or more minorities; or, in the case of any publicly owned business, at least 51 percent of the stock is owned by one or more minorities; and whose management and daily business operations are controlled by one or more minorities
Women Owned or Women Business Enterprise
A business concern that is at least 51 percent owned by one or more women, or, in the case of any publicly owned business, at least 51 percent of the stock is owned by one or more women, and whose management and daily business operations are controlled by one or more women.
Veteran (V)
A person who served in the active military, naval, or air service, and who was discharged or released therefrom under conditions other than dishonorable as defined in title 38 of the U.S.C., section 101 (2).
Testimonials
Read about success stories from a few of our minority business
Hank Nishida, the president of Nishida Services Inc., founded the company in 1985.  Nishida Services is a janitorial service provider headquartered in Fishers, IN.  Prior to Nishida Services, Hank worked for a national corporation where he learned that climbing the corporate ladder was not how he envisioned his career.  Through much prayer and consideration, he decided to pursue his dream by starting his own company.  He began from the ground up by purchasing a van and equipment then started knocking on doors, taking any cleaning job he could find. Through his dedication and persistence, he continued to build his portfolio of commercial clients.  In the mid-90's Hank attained certification as a Minority Business Enterprise.  As a certified MBE, Nishida Services has gained increased visibility and access to a wide range of business opportunities throughout the State.  Nishida Services now employs over 500 individuals throughout Indiana, Ohio, and Illinois.

 

Our MBE status has given us the opportunity to put our foot in the door with government agencies and large organizations such as Ivy Tech Community College who value supplier diversity.   Other success stories from our MBE certification would include the construction cleaning of Conseco Fieldhouse, Lucas Oil Stadium, and being awarded the Indiana State QPA contract holder for the past 18 years.  

 

Working with Ivy Tech statewide has provided opportunities for contract expansion in current and new markets for our company. As a trusted vendor, our company has secured additional contracts and increased the scope of existing contracts.  Partnering with a reputable organization like Ivy Tech enhances our company's credibility in the marketplace, strengthens our brand, and has contributed to overall business growth.

 

Certification as an XBE gives us a competitive edge in the market. Many organizations prioritize working with diverse suppliers as part of their corporate initiatives or to meet diversity requirements in contracts.  As a certified MBE, we are given access to these diversity programs and increase our chances of securing contracts and business opportunities. Overall, the certification differentiates our business from many competitors that are not certified, allowing us to stand out and attract clients who value diversity and inclusion.

 

We hope that our MBE certification continues to open doors for our company to expand with existing and new clients.  Not only do we want to expand our presence in the market, but we want to come alongside other XBE companies to participate in these opportunities.  Building relationships in the industry with other suppliers strengthens everyone's chances of being successful in the contracts we are seeking.

V&J Consulting was founded in 2008 by service-disabled veteran Jae Ebert and was certified as a veteran-owned business (VBE). We started with construction consulting and project management and have grown to provide more services including:

Fiber optics: inside and outside plant installation, splicing, testing, maintenance, and emergency repairs
Low voltage data and communications: design, installation, and testing
Project design
Aerial Construction

 

Being certified as an XBE (or Minority Business Enterprise) has been instrumental in our growth and success. This certification has introduced us to working with large corporations, government agencies (such as the City of Indianapolis), and educational institutions. In particular, our partnership with Ivy Tech has been a game-changer for us.

 

Being a certified XBE is helpful because it gives us an edge in a competitive market. We can offer diversity and inclusion to our clients, which is becoming increasingly important in today's business landscape. When we first branched into fiber optics, we were approached by the City of Indianapolis because we were a certified VBE. We were offered an opportunity to work on the Indianapolis Cultural Trail project and the Indy CJC, projects that we might not have been invited to otherwise. As we worked on building our business, we looked for jobs that sought out XBE participation to help us develop our portfolio, and that is how we came across the Ivy Tech Nursing Lab project. We won the bid and proved our value. Since then, we have worked on multiple jobs with Ivy Tech at various campuses throughout central Indiana.

 

Moreover, this certification has helped us access valuable resources, such as training programs, mentorship opportunities, and networking events. We are confident that our certification will continue to assist us as we aspire to expand our reach, work with more clients, and positively impact our community. Being a certified XBE is not just a label but a commitment to excellence, and we are proud to be a part of this community.

XCEED ELECTRIC – XBE STORY

Xceed Electric, Inc. emerged in August 2021 under the visionary leadership of Chris Jones. Chris's illustrious journey in the electrical field began nearly two decades ago when he embarked upon the prestigious Indiana Brotherhood of Electrical Workers (IBEW) electrical apprenticeship program. This formative experience laid the foundation for his remarkable career, propelling him to new heights of success.

Armed with a solid educational background, including a B.S. in Electrical Engineering Technology and a master's electrical license, Chris honed his expertise through various pivotal roles. From his early days as a journeyman to his tenure as a foreman and project manager, Chris's unwavering commitment to excellence and meticulous approach to his craft propelled him forward.

Chris's profound passion and unwavering dedication led to the establishment of Xceed Electric. Guided by the principle of building relationships and consistently exceeding expectations, Xceed Electric is a full-service licensed electrical contractor that wholeheartedly embraces innovation and technology. Our mission is clear: to provide exceptional electrical services throughout central Indiana and eventually beyond.

With Chris's extensive expertise and the collective dedication of our skilled team, we take immense pride in handling all aspects of commercial and industrial electrical projects. From the vibrant realm of education to the critical fields of healthcare, we confidently navigate diverse industries, leaving a lasting impact with our exceptional workmanship.

As a certified Minority Business Enterprise (MBE) contractor, Xceed Electric has experienced remarkable growth and success, partly attributed to our certification. This recognition has opened doors of opportunity and allowed us to establish invaluable partnerships with organizations that share our unwavering commitment to diversity and inclusion. We have had the privilege of working with Ivy Tech, IPS Schools, IU Health, Wayne Township Schools, IUPUI, and Indy Public Library, among other notable customers.

Our interconnected relationship with Ivy Tech deserves special mention. It has been a catalyst for our growth, enabling us to cultivate a direct connection and make a lasting impact on the development of communities beyond our initial reach.

Being a certified minority contractor goes far beyond being a mere title. It is a testament to our unwavering dedication to diversity and inclusion. Our certification serves as a catalyst, igniting economic opportunities for fellow minority-owned businesses and uplifting underrepresented voices. We take great pride in our MBE status, which sets us apart in a competitive industry and instills trust in clients who share our diversity and social responsibility values.

At Xceed Electric, we are excited and anticipate the boundless possibilities ahead. We see our certification as a launchpad for even more remarkable accomplishments, positioning us as a trusted partner in our industry. We aspire to attract like-minded organizations and individuals who prioritize diversity and seek to partner with contractors that embody these values.

Thank you!

Chris Jones | President
Joining our Marketplace as a certified Minority Vendor
Joining our Marketplace as a certified Minority Vendor You could unlock your business potential and help to grow our community when you do business with us as a certified supplier.
IDOA certified minority vendors receives invoice payments within 10 days of invoices

Access cash flow with up to 50% advance payment for select vendors on a case-by-case basis

Ivy Tech includes strong diversity subcontracting incentives in all construction contracts

Increase agility with the largest network of campuses within the state. Broaden your network with our tier-1 suppliers
OUR SUPPLIER SUPPORT PARTNERS
Paymentworks
PaymentWorks is our third-party vendor data management support and supplier onboarding partner. In order to process your invoices and submit payment for services rendered, you will need to submit information about your business, including address, contact information, and tax-related information.  Even if you have been doing business with us for years, the first time you get a PaymentWorks invitation, you'll fill out a 'new' vendor registration form. Here are some useful tips"
To update your information - log into your PaymentWorks account and update your personal or business information in the Company Profile section at https://community.paymentworks.com/payees/s
Why do we need payment works?
Because they wanted to get you paid faster, and more importantly, that they want to verify that you are who you say you are and that the payment goes exactly where it should. Joining PaymentWorks is required to receive payment from your customer, and it keeps your information secure. Once your registration is submitted and approved by your customer, you will receive an email notification that you have been onboarded, have a vendor ID and are ready to receive payment.
Indiana Department of  Administration (XBE CERTIFICATION)
Indiana Department of Administration (IDOA) has launched a secure portal where you can now electronically complete your application to become a certified Minority Vendor. Visit their website for more details at https://www.in.gov/idoa/mwbe/.
Frequently Asked Questions
Follow the link to the Indiana Department of Administration in our supplier support part

Supplier applications are securely processed in partnership with you and PayemntWorks when you are identified as a supplier by Ivy Tech. You may also contact the Procurement team if you determine that we might need your goods or services.

Our term of payment is net 30 days. However, it can be modified on a case-by-case basis for our certified small businesses

Your invoices must be sent to our accounts payable hub for processing. For faster processing, remit to all-apinvoices@ivytech.edu.

Your business must be registered with an EIN or your SSN depending on the classification of your business or supplier category which can be either; 

Ensure that the EIN on your vendor application with PaymentWorks matches IRS records and W-9.

Certain contractors will need to meet our minimum insurance requirements. This will be disclosed as part of contract negotiation. Contact our procurement team for more information

Any one of these insurance types might be required depending on the service or goods that you are providing. Keep in mind that it might not be required at all.

Commercial General Liability Worker's Compensation Business Automobile Liability Umbrella / Excess liability, property pollution liability 

Professional Liability / Errors and Omissions Crimes

Contract Bonds