Courses Restaurant and Courses Bakery-Cafe
Both the restaurant and the bakery are student-run operations in the Ivy Tech Indianapolis Culinary and Conference Center on the College's downtown Indianapolis campus. The restaurant is located on the penthouse floor and the bakery-cafe is in the 1st-floor lobby.
Hoosier Hospitality Promise
We will be adhering to the reopening guidelines of the Hoosier Hospitality Promise set forth by the Indiana Restaurant and Lodging Association to ensure the safety of our guests, students, faculty, and staff.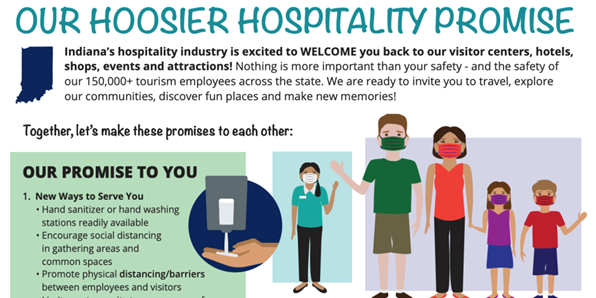 Courses Bakery & Cafe provides a wide assortment of pastries, breakfast items, lunch, and more throughout the semester.

A portion of your meal price and 100% of your tips go toward our student scholarship fund which facilitates travel and experiential learning opportunities. 

Location: Culinary and Conference Center (1st Floor CCCI 130) 

Hours of Operation

1st 8 Weeks – Wednesdays and Thursdays, 5:00 p.m. – 8:00 p.m.

February 15 and February 16
February 22 and February 23
March 1 and March 2
March 8 and March 9
2nd 8 Weeks – Mondays and Tuesdays 9:30 a.m. – 1:00 p.m.
March 27 and March 28
April 3 and April 4
April 10 and April 11
April 17 and April 18
April 24 and April 25
May 1 and May 2
May 8 and May 9

Questions? 

Contact us at Indianapolis-Hospitality-Events@ivytech.edu

Courses Restaurant provides service to the public for lunch and dinner during the fall, spring, and summer semesters, depending on class schedules. A portion of your meal price and 100% of your tips go toward our student scholarship fund which facilitates travel and experiential learning opportunities. View open dining dates and availability below. 

Location

Courses Restaurant is located on the penthouse level of the Culinary and Conference Center. 

Making Reservations

Make your reservations now! We are back and so excited to be able to serve you again in Courses Restaurant! Make your reservations now for any of the dates below in either of the following ways:

Spring 2023 Dining Dates & Pricing
Lunch Only on the following Thursdays:

Thursday, 2/16
Thursday, 2/23
Thursday, 3/2
Thursday, 3/9
Thursday, 3/30
Thursday, 4/6
Thursday, 4/13
Thursday, 4/27
Thursday, 5/11

Lunch is $20 per person 

Please note menus are subject to change based on product availability and course learning objectives.

Reviews & News
Location
2820 N. Meridian Street, Indianapolis, IN 46208
Follow us on social media