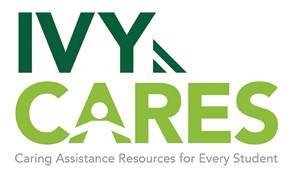 IvyCares is here to assist you with finding additional campus and community support throughout your academic journey. Sometimes called "wraparound services," IvyCares focuses on helping students connect with resources in the following areas: emergency transportation assistance, food security, mental health resources, technology assistance, and emergency aid funding.
Our locations have great support resources to assist you when you are in need!
Select the location nearest to you in the dropdown below for more information about local resources that are available.
Areas Where IvyCares Can Help You!
IvyAssist is an amazing website filled with local options to assist Ivy Tech students. Use this website to search for services available in your local area. IvyAssist can connect you with organizations who provide food assistance, housing needs, transportation, health resources, financial assistance, education options, legal services and so much more. To check out what is offered, visit ivyassist.auntbertha.com.

Student Emergency Aid Fund

The Ivy Tech Student Emergency Aid Fund provides financial assistance to Ivy Tech students facing short-term financial emergencies to help you can stay in class, be prepared, and persist in your academic coursework.

If you are facing a financial hardship, click on the link below to learn more about the funding criteria and submit an application for consideration:

Campuses have a variety of options to assist you with your food needs. Some of our locations have on-campus food pantries or food sharing shelves while others may give grocery store gift cards to help you purchase what you need. IvyCares staff are also prepared to help you connect with food access resources in your local community. To learn more about what your campus offers, connect with your IvyCares staff member. 

Access to technology and the internet are keys to student success while in college. Campuses offer a few different ways to assist you in this area. Contact your campus IvyCares staff member to learn more about the resources available to you.

Students seeking transportation assistance can connect with their IvyCares staff member to learn more about their campus' transportation resources, which may include connecting with local public transportation or receiving vouchers for ride sharing options.

Ivy Tech and Indiana's Office of Early Childhood and Out-of-School Learning have joined forces to provide eligible Ivy Tech students with streamlined access to child care assistance. Through this partnership, Ivy Tech students who are seeking child care assistance and meet Child Care and Development Fund (CCDF) eligibility guidelines will qualify for streamlined access to child care assistance vouchers.  For more information about this program and how to apply for a voucher, please visit: www.ivytech.edu/childcare.

Nationwide, mental health is one of the biggest issues facing college students. Whether you talk to a trusted friend, family member, or someone at Ivy Tech, we want you to ask for help when you need it. Each of the Ivy Tech campuses has connections to mental health resources. Additionally, many of our faculty and staff have received special training to know how to assist students by referring them to mental health services. Connect with your IvyCares staff member or mental health staff member to learn more about your options.
Find Local IvyCares Contact Info