iCAP Opportunities at Ivy Tech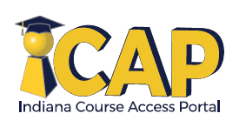 Ivy Tech Community College and the Indiana Course Access Program (iCAP) have teamed up to allow high school students the opportunity to take Ivy Tech courses and earn college credit online. With a catalog of courses available, Ivy Tech's iCAP options provide the opportunity for schools to expand learning opportunities and diversify coursework.
Benefits of iCAP
Students can earn up to 15 hours of transferable college credits, placing them on a faster path to meet their educational goals while still in high school. Advising provided by the high school counselor, and taking the right blend of dual credit and iCAP coursework, will also place students on a path to participate in the Gen Ed Transfer program. This will allow them to earn the Indiana College Core Technical Certificate, which is a block of 30 credit hours that will transfer to any public four-year college or university in Indiana
Who provides iCAP?
Ivy Tech serves as an iCAP provider. By choosing Ivy Tech, students will learn from experienced college professors who can meet their individual needs. Ivy Tech offers many benefits to students, including credits that transfer seamlessly to all four-year, public institutions in the state and affordable tuition rates.
What Courses are Offered?
Ivy Tech has a variety of courses available through the iCAP program. Explore course descriptions below in:
Mathematics
Sciences
Arts & Culture
Business & Communications
Computers & Information Technology
English & Writing
World Languages
History
History
Covers major themes and events in American history from domestic and global standpoints, including exploration of the New World; the colonial period; causes and results of the American Revolution; the development of the federal system of government; the growth of democracy; early popular American culture; territorial expansion; slavery and its effect; reform movements, sectionalism; causes and effects of the Civil War.

Covers major themes including the post Civil War period, western expansion, industrial growth of the nation and its effects, immigration and urban discontent and attempts at reform, World War I, the Roaring Twenties, social and governmental changes of the thirties, World War II and its consequences, the growth of the federal government, social upheaval in the sixties and seventies, and recent trends in conservatism, globalization, and cultural diversity.

Studies federalism, theories of the origins and purposes of government and other aspects of the American government including interest groups, political parties, and the electoral process. Emphasis is placed on constitutional backgrounds and the organization and functions of the executive, legislative, and judicial segments of the national government, civil liberties and civil rights, public opinion, media, bureaucracies, and domestic and foreign policy.
Questions about iCAP?
We're here to help! Please contact Andrea McDole, Director, K-14 Initiatives, at amcdole3@ivytech.edu or 812-265-2580, ext. 4145.
We also have representatives available outside of regular business hours, which you can reach via the IVY-LINE or live chat.