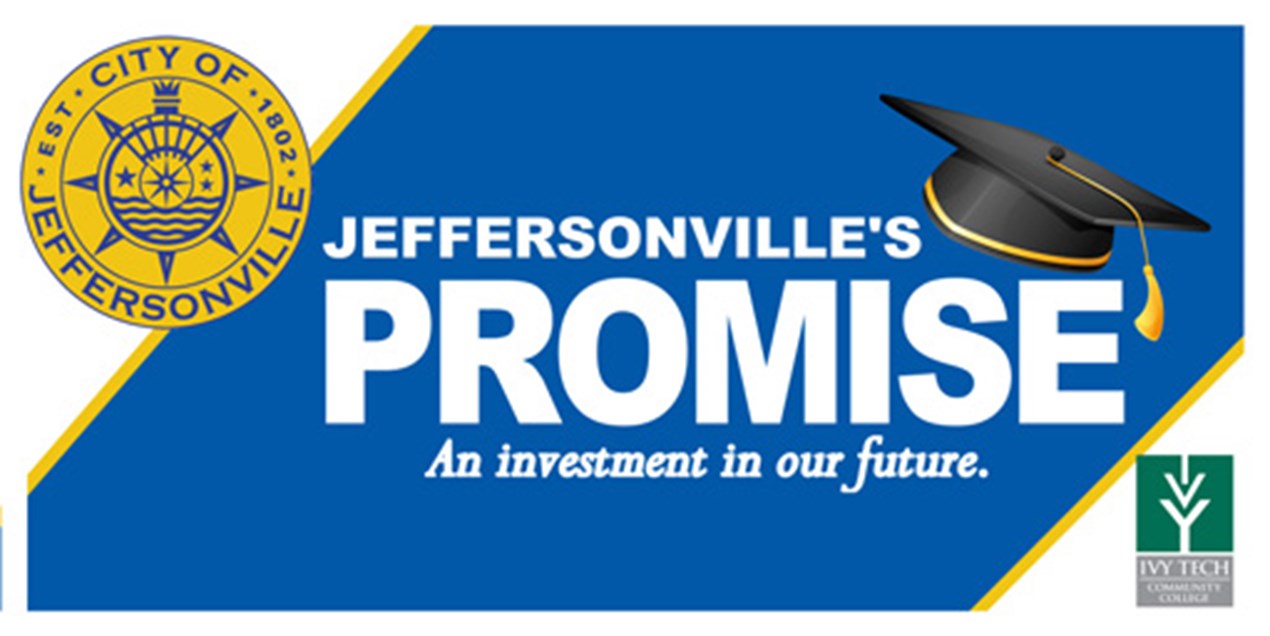 WHAT IS THE JEFFERSONVILLE PROMISE SCHOLARSHIP?
A scholarship provided by the City of Jeffersonville for Jeffersonville High School graduates (Spring 2019 and beyond) that attend Ivy Tech Sellersburg as degree-seeking students. If traditional financial aid (federal, state, scholarships) doesn't cover the cost of your tuition, Jeffersonville's Promise dollars will. Either way, you're covered!*
*This scholarship is a last dollar scholarship, meaning all other types of financial aid (federal, state, scholarships, etc.) excluding federal student loans, will be applied to tuition before Jeffersonville Promise funds would be used.
*This scholarship does not cover other course/program fees, such as course materials or textbooks. In an effort to help cover all costs incurred by enrollment, all students must complete both the Free Application for Federal Student Aid (FAFSA) and the Ivy Tech Community College scholarship application annually. While federal, state, and/or scholarship funding is not guaranteed, filing both will help supplement any aid available via the Jeffersonville Promise program. The Jeffersonville Promise Scholarship is non-refundable to students.
Students must submit the following required applications to Jeffersonville Promise eligibility:
Free application for admission to Ivy Tech Community College found at www.ivytech.edu/applynow.
The 2024-2025 Free Application for Federal Student Aid (FASFA) is found at www.fafsa.gov. The FAFSA application must be submitted no later than the state of Indiana deadline (April 15) each spring, prior to the new school year. Ivy Tech has one school code. Be certain to add our school code to your FAFSA: 009917
The Ivy Tech Scholarship application is found via MyIvy Portal once logged into the student's account at my.ivytech.edu. Students must first be accepted to the college before completing this application. This application must be submitted prior to the start of the fall semester each year
For more information contact:
ELIGIBILITY GUIDELINES
Initial Eligibility Guidelines: 
Students must graduate from Jeffersonville High School 2019 (Spring 2019 or later) with a minimum GPA of 2.0.
Students must enroll at Ivy Tech Sellersburg during either the Fall, Spring or Summer semester beginning with the Fall semester after their graduation from Jeffersonville High School. Students who do not enroll during the academic year following graduation will lose eligibility.
Students must complete their application for admission to Ivy Tech and complete their FAFSA by April 15th of their graduation year, regardless of which Ivy Tech semester they plan to enroll. If selected for federal verification, verification must be completed by the start of the Fall semester.
Students must complete the Ivy Tech scholarship application. Students can apply for scholarships after being admitted to the college. This application can be accessed through their MyIvy account.
Students must enroll in a credit-bearing program with a declared major at Ivy Tech leading to the attainment of a certification, technical certificate, or Associate's degree.
Ivy Tech Sellersburg must be the student's home campus.
Continuing Eligibility Guidelines:
After starting their Ivy Tech courses, students must continue to file their FAFSA by April 15 or the set Indiana State Deadline each year.
Students must also apply for Ivy Tech scholarships each year by July 15.
While enrolled at Ivy Tech, students must maintain a cumulative 2.5 GPA and follow the Ivy Tech Satisfactory Academic Progress (SAP) Policy.
Once approved, continued enrollment at Ivy Tech Sellersburg is required each semester, except for the summer semester. Students must successfully be enrolled and complete/pass a minimum of one class per semester.
Students must successfully pass all courses with a grade of D or better. A class failure or withdrawal will result in a balance owed back to the college for all credits not completed.
Students must not deviate from taking classes toward their degree/certificate program classes (students may earn certificates along the way if they are embedded in their degree program).
Students who completely withdraw from all their classes during a semester would no longer be eligible to receive the Jeffersonville Promise Scholarship for future semesters. This would also mean that the student would be billed for the unfinished course(s).

Students must fill out the survey regarding their Jeff Promise experience, that will be emailed yearly.

Upon completion of an Associate's degree from Ivy Tech, including one earned as a Dual Credit student in high school, a student is no longer eligible for the Jeffersonville Promise Scholarship.
Find Local Financial Aid Contact Info