Ivy Tech and IDOC Partnership
Ivy Tech Community College has been selected to serve as an educational partner with the Indiana Department of Correction (IDOC). The statewide community college will provide high-quality educational services and vocational/career and technical education training with certifications to incarcerated individuals at 15 correctional facilities across the state of Indiana. The partnership will be managed out of the Ivy Tech Madison campus. These services provide incarcerated individuals the education and training needed to assist them for a successful re-entry.
Services
The services Ivy Tech will provide will be designed to help an individual acquire a combination of basic academic, critical thinking, digital literacy, and self-management skills. All IDOC education programs will be a service-based approach that provides adult education and literacy activities, concurrently and contextually, with workforce preparation activities and workforce training. The goal of the integrated English literacy and civics education program is to provide a program that would prepare adults for employment in in-demand occupations that lead to economic self-sufficiency.
Adult Basic Education - Indiana Adult Basic Education programs provide math, reading, and writing instruction free of charge to help you acquire the skills needed to earn a high school equivalency diploma, go to college, or participate in an entry-level occupational certification program. Programs include Literacy, High School Equivalency, English Language Learner, and Special Education. 
Vocational / Career and Technical Education - Ivy Tech Community College provides in-house vocational/CTE programs at 13 IDOC facilities to serve 2,500 offenders a year. Programs offered include: Business Tech (IC3); Building Trades (NCCER); Logistics (CLA/CLT); Welding (NCCER/AWS); Cosmetology/Barber; Culinary (AHLEI & ServSafe); Building Trades (NCCER); Horticulture; and Recreational Vehicle Technical Institute (RVTI). 
Out-Custody - Out Custody training is a short term skills training that takes place at partnering Ivy Tech campuses for eligible incarcerated individuals, and results in nationally recognized industry certifications. The hours required for these trainings range from 80 hours for welding up to 140 for CNC machining and MSSC Certified Production Technician.
Employment
Nearly 140 Ivy Tech employees will serve an estimated 5,600 incarcerated individuals statewide (3,100 adult basic education and 2,500 vocational), providing workforce prep activities, integrated education and training, integrated English literacy and civics education, and English as a second language skills. The services delivered will be aligned to, and within, the guidelines and requirements of the Indiana Department of Education and the Indiana Department of Workforce Development.
4 Year Agreement
The Indiana Department of Correction and Ivy Tech entered into a four-year agreement to provide these educational services. This agreement builds on prior work Ivy Tech has done with IDOC which began in November of 2017. Through that partnership, 699 individuals were provided the opportunity to participate in Out-Custody Skills Training such as manufacturing production, CNC machining (mill and lathe), OSHA, and welding. To date, these students have earned 1,280 industry recognized certifications preparing them for entry-level careers in high-wage, high demand fields.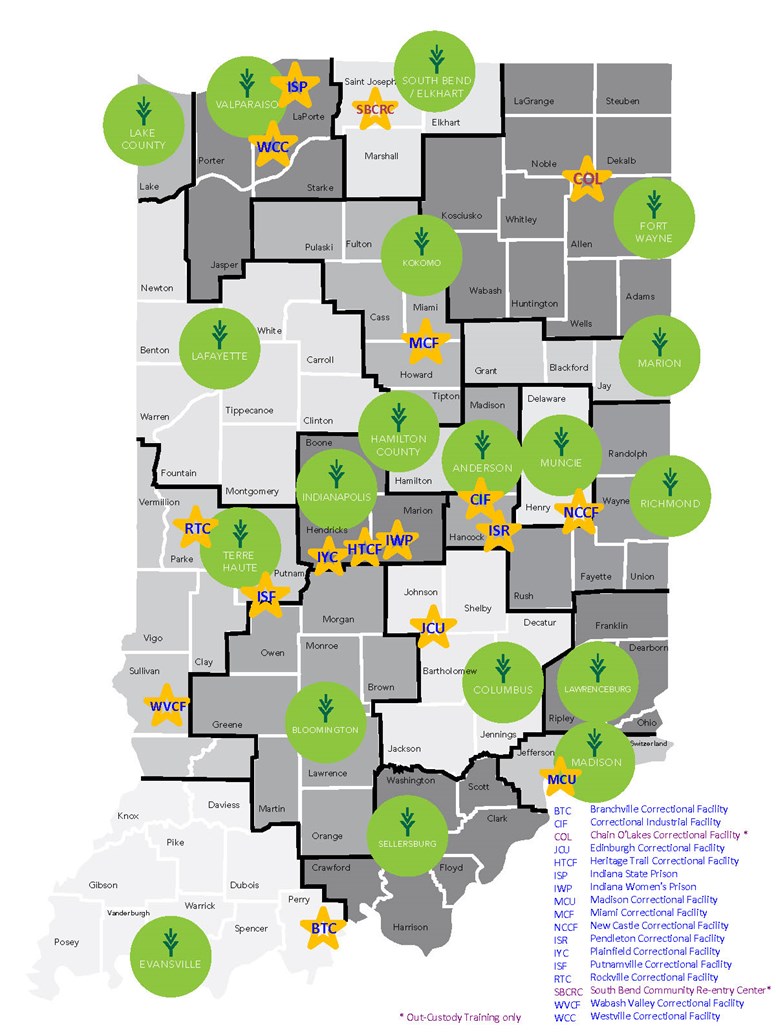 Programs By Location
Literacy
High School Equivalency
Special Education
CLA CLT IET
Culinary Arts (AHLEI/ServSafe Certifications)
Welding NCEER + AWS

Literacy
High School Equivalency
Special Education
Business Tech (IC3)
Logistics CLA/CLT

Literacy
High School Equivalency
Special Education

Literacy
High School Equivalency
Special Education
Business Tech (IC3)
Carpentry (NCCER)
CORE IET
Logistics CLA/CLT
Culinary Arts (AHLEI/ServSafe Certifications)

Literacy
High School Equivalency
Special Education
Culinary Arts (AHLEI/ServSafe Certifications)

Literacy
High School Equivalency
Special Education
Business Tech (IC3)
Culinary Arts (AHLEI/ServSafe Certifications)
Coding (The Last Mile)
Cosmetology
English Language Learner (ELL)

Literacy
High School Equivalency
Special Education
Business Tech (IC3)
Cosmetology

Literacy
High School Equivalency
Special Education
Business Tech (IC3)
English Language Learner (ELL)
Logistics CLA/CLT
Barbering

Literacy
High School Equivalency
Special Education
Business Tech (IC3)
Barber
Carpentry (NCCER)
Core
English Language Learner (ELL)
Logistics CLA/CLT
Culinary Arts (AHLEI/ServSafe Certifications)
Cosmetology/Barbering
Horticulture

Literacy
High School Equivalency
Special Education

Literacy
High School Equivalency
Special Education
Business Tech (IC3)
Carpentry (NCCER)
Coding (The Last Mile)
Core IET
Welding NCCER + AWS
Culinary Arts (AHLEI/ServSafe Certifications)

Literacy
High School Equivalency
Special Education
Carpentry (NCCER)
Coding (The Last Mile)
Core
Welding NCCER + AWS
Culinary Arts (AHLEI/ServSafe Certifications)
Auto Tech

Literacy
High School Equivalency
Special Education
Carpentry (NCCER)
Coding (The Last Mile)
Core IET
Culinary Arts (AHLEI/ServSafe Certifications)
Cosmetology



Literacy
High School Equivalency
Special Education
Carpentry (NCCER)

Literacy
High School Equivalency
Special Education
Business tech (IC3)
Carpentry (NCCER)
CORE 
Culinary Arts (AHLEI/ServSafe Certifications)
English Language Learner (ELL)
Logistics CLA/CLT
RVTI
Welding NCCER + AWS