Ivy Tech offers CDL (commercial driver's license) training at six (6) locations across Indiana.
The trucking industry needs more than 400,000 new drivers every year. If you're looking for an in-demand and financially rewarding career, consider CDL Training at Ivy Tech Community College.
Do you want the flexibility to choose where you work?
Ivy Tech CDL Training has established a premier network of hiring companies, including national carriers, regional trucking companies and local trucking jobs, so you'll have a large selection of potential employers.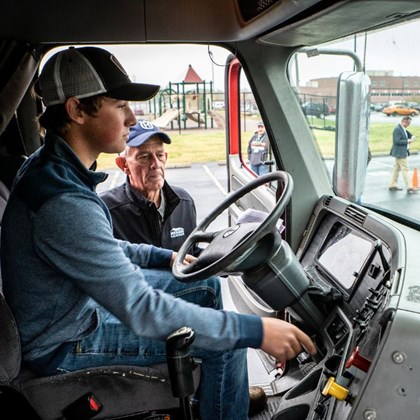 Do you want several job offers in-hand when you complete the training?
Ivy Tech understand the importance of career options that will allow you to find the job and the company that fits your needs for pay, benefits, lifestyle, home time, truck specs, and more. The CDL training will allow to use your "power of choice" as soon earn your CDL.
Other CDL training programs work with only a few large carriers or require you to train for their company. Don't limit your choices.
Ivy Tech CDL Training aligns with the PTDI "gold standard" curriculum.  The Class A program is a 160 hour course (completed in 3-4 weeks) which allows the maximum time for behind-the-wheel training, giving you the most time in a hands-on environment driving/controlling the vehicle, so you can pass you CDL Skills test to earn your CDL.
Ivy Tech CDL Training also provides Class A Refresher Training as well as Class B training at specific locations.
All Ivy Tech CDL Training program locations and all instructors are licensed by the Indiana Bureau of Motor Vehicles.  For more information on training in your area, please select a campus below.
Find Local CDL Training Contact Info
Don't see a nearby CDL Training location? Call 1-888-489-5463 and we'll get you started.
Lisa Beasley, Talent Connection Manager
Find Local Admissions Contact Info