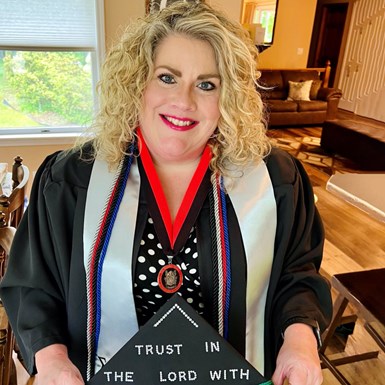 Every day when Tamara (Tammie) Griffin wakes up, she is reminded of a quote by John Wesley on her bathroom mirror that reads:
"Do all the good you can,
By all the means you can,
In all the ways you can,
In all the places you can,
At all the times you can,
To all the people you can,
As long as ever you can."
For as long as she can remember, Tammie has always had a passion for helping people. As a nonprofit administrative professional for 25 years, she'd always been 'behind the scenes' of office management. And, thanks to her relationships – specifically her relationship with God – she felt a strong calling to do more.
"I had no idea what I wanted to do, I just knew I wanted to be in the service of helping people," she shared.
Additionally, Tammie knew that whatever her next step was, it had to be affordable, allow her to continue working, and still provide her with time to support a family. After some research, she made the decision to attend Ivy Tech's South Bend-Elkhart campus and to enroll in the School of Public Affairs and Social Services.
As a student, she was accepted into the Transfer Single Articulation Pathways (TSAP) program, allowing her to earn an associate degree from Ivy Tech and to then transfer to a public, four-year institution with automatic junior status. Determined to make the most of her Ivy Tech career, Tammie also became secretary of the College's Student Government Association, president of the Human Services Club, and vice president of the National Society of Leadership and Success. By the time she was ready to graduate, she was named Ivy Tech South Bend-Elkhart's distinguished graduate for the class of 2022.
But none of her involvement would have been possible without the support of Gale Vaughn, head of the Human Services Department at Ivy Tech South Bend-Elkhart.
"I had no idea how much Gale's support would change my college experience," she told us. "Gale was my champion and I'll never forget the presence she had on my life. She pushed me to become successful and her teaching and leadership style were instrumental to my journey."
Today, Tammie is continuing her studies at Indiana University South Bend and is on track to receiving a bachelor's degree in human services with hopes of pursuing graduate education. She credits Ivy Tech for the leadership skills that she demonstrates in her current role as an administrative assistant and bookkeeper at her local church.
"I have been here for almost ten years now and the confidence I have in my professional goals is something I chalk up to my time at Ivy Tech," she explained. "I've also learned critical time management skills, how to be more innovative, and how to be unafraid to change things up and do things differently."
As for her future, Tammie knows her faith will steer her in the right direction.
"At the beginning, Ivy Tech was just a step in my journey, but it became so much more than that," she said. "As I look to the future, I'll continue to rely on God for wherever life decides to take me next."
Tuesdays@TheTech
Visit Campus on Any Tuesday
Each Tuesday, our campuses hold an enrollment event designed for you to explore programs, get help applying and preparing for Ivy Tech classes, connect with career coaches, and more. Our team will work with you personally to answer any questions and help you determine the right next step.