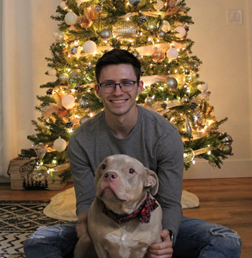 After graduating from high school, Drew Jacobs wasn't sure what he wanted to do for a career. Initially, Drew began his postsecondary education studying to be a Physical Therapist Assistant (PTA). After spending a few months in school and talking with his older brother about his future career goals, Jacob decided to go a different direction. In January 2019, he began training to be an Emergency Medical Technician (EMT). The program was six months long and had hands-on training, which Drew loved. Upon receiving his EMT license, he was hired to work in the Emergency Department at Franciscan Health Michigan City. He began working full-time in November 2019.
Not too long after he began working at the hospital, the COVID-19 pandemic hit and started to overwhelm hospitals. Drew watched as hospitals became overcrowded and nurses worked tirelessly to keep up with the high demand of patients. His exposure to the needs of people and the hardworking nurses around him encouraged him to further his education by becoming a nurse. Although someone with an EMT license can do things, such as draw blood, monitor vital signs, and help transfer patients, they are still limited to how much they are allowed to do. By earning his nursing degree, Drew would be able to perform health assessments, administer IVs and vaccinations, dress wounds and fill out patient forms. As his passion for helping others grew, he knew he wanted to receive this credential so he could further help those in need.
In January 2021, Drew began his Associate's of Nursing degree at the Ivy Tech Community College in Valparaiso, Indiana. He chose Ivy Tech's nursing school due to his brother earning the same degree a few years earlier. The campus was conveniently located 10 minutes from his home, and he wanted a school close to home, as well as one that allowed him to continue working at Franciscan. Drew loved the hands-on learning experience he received at Ivy Tech, along with the comradery of his small cohort.
Drew also appreciated the nursing staff at Ivy Tech, specifically Sharon Smith and Grace Reddington. "If I ever felt uncomfortable trying something new, the professors were always open to listen and help. They also were excellent teachers and helped open my eyes to a lot of different things inside nursing."
After graduating December 2022 and passing the NCLEX in January 2023, Drew will continue working at Franciscan, only this time as a registered nurse. Drew shares that, "one of the coolest parts of being in the medical field is the constant opportunity to expand your horizons. Helping a person feel better is incredibly encouraging."
Drew plans to further his education at Indiana Wesleyan University in March with the end goal of earning his nurse practitioner's license. Although he admits that becoming a nurse wasn't always easy, Drew says it was well worth it. He encourages other students that "if you stick to it, study hard, and become close with your cohort, you'll succeed."
Tuesdays@TheTech
Visit Campus on Any Tuesday
Each Tuesday, our campuses hold an enrollment event designed for you to explore programs, get help applying and preparing for Ivy Tech classes, connect with career coaches, and more. Our team will work with you personally to answer any questions and help you determine the right next step.