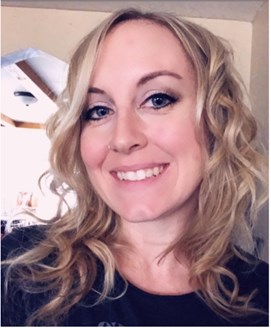 When I sat down to chat with Brittney Vickery, the final stanza of the poem, Invictus, came to mind.
Because when Vickery knew she wanted to go back to school, she often felt like the tidal waves of life kept her just above water, pushing her further and further away from her dreams of becoming a nurse.
The truth was, Vickery had attempted to go back to school– and even took the first step by applying to college many years ago.   
"But then life happened," Vickery told us. "And when my marriage ended back in 2018, after having three kids, I knew I had to put everything else aside to build a life for them."
After eight years of reflecting and reimagining her journey from ashore, she finally decided it was time to set sail again, but the outlook ahead called for choppy and unpredictable conditions.
Choosing to hit 'reset' on her career as a single parent and struggling to find childcare that would accommodate her schedule, Vickery was sure her next voyage would be far from easy. Even after several years of working as a medical assistant, she still needed to obtain a certification to continue growing in the industry, which would require going back to school while continuing to work full-time.
She quickly set sail once again, but this time, she brought a toolbox along with her, and in that toolbox was Ivy Tech Community College in Valparaiso. Vickery didn't just want to succeed in life as a nurse, she also wanted to demonstrate to her children how an education can help anyone achieve their lifelong dreams.
"I chose Ivy Tech for three reasons," she shared. "It was the most cost-effective option for me, the course modality options meant I could go to school and still balance a career and a family, and I'd been told by numerous colleagues that Ivy Tech's Nursing program produced quality graduates who would be prepared for the workforce upon graduation."
As she continues her journey as a student in the Associate of Science (ASN) in Nursing, she's already received her Certified Nursing Assistant (CNA) certification and is anticipated to graduate in December of this year. Additionally, she holds two jobs as a part-time student, one as an office manager at a pain management clinic in Hobert, Indiana, and the other as an Intensive Care Unit (ICU) Registered Nurse (RN) Fellow at Community Health in Munster, IN.
"My courses have helped me in both of my jobs, whether it is medical law and ethics or putting my clinical experience to work at the hospital as a Fellow," she shared.
Also in Vickery's toolbox? A compass powered by unwavering support, specifically from her boyfriend, her instructors, and her colleagues.
"My student journey is everything I have worked for," Vickery explained. "I've made my education a priority, but I could not do this without the encouragement and support of my family, friends, and coworkers."
Vickery has also received financial support along the way as well. As a Pell Grant and Frank O'Bannon Award recipient, she's been able to afford a quality, world-class education without the looming burden of student loans. As a result, she's been able to seize other opportunities to further her growth as a member of the Student Nurse Organization on campus, where she began as secretary and is now president.
For Vickery, the nursing field is something she has always been interested in, particularly the ICU and trauma units. She's always admired healthcare professionals' ability to quickly respond to unforeseen circumstances and has taken an interest in personal training (PT), another profession she was exposed to as a student that has reinforced her desire to elevate others.  
"I'd love to pursue PT later down the line, but want to concentrate on nursing for now," she stated. "I love motivating people in my line of work. It motivates me."
That motivation has not only kept Vickery afloat, it's also pushed her to map out her next expedition: continuing her education at Purdue University to receive a Master of Science in Nursing, where she hopes to become a nurse practitioner.
Vickery left us with some words of wisdom that will inspire anyone who finds themselves lost at sea, nervous about leaving shore, or venturing out for the first time.
"You can't control others, but you can control yourself and your fate. That's where your character comes from."
And we're confident that wherever Brittney Vickery ends up, she won't just sail, she'll prosper.
Tuesdays@TheTech
Visit Campus on Any Tuesday
Each Tuesday, our campuses hold an enrollment event designed for you to explore programs, get help applying and preparing for Ivy Tech classes, connect with career coaches, and more. Our team will work with you personally to answer any questions and help you determine the right next step.