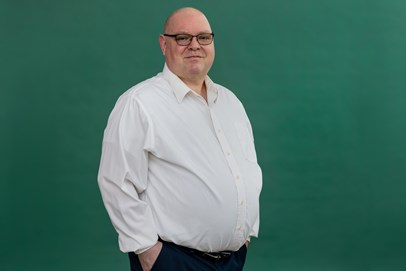 As Indiana's community college, we take great pride in highlighting nontraditional students as they prepare to graduate and enter high-wage, high-demand careers. One student in particular, Howard Whetstone, is using his journey as a nontraditional student to pursue a global workforce certification.
When Howard was a child, he wanted to be a high school counselor or a pastor. However, as he grew older, his first encounter with the workforce turned out to look much different than either of those career paths. In fact, Howard's journey began in a factory setting. After discovering the manufacturing industry wasn't for him, he chose to explore the world of healthcare instead.
Today, he serves as a cardiac heart monitoring technician at Memorial Hospital in South Bend and appreciates how flexible and affordable Ivy Tech is as a full-time employee and part-time student.  
"My Ivy Tech experience has really helped me connect with others," said Howard. "It's even helped me open the door to opportunities that I wouldn't have otherwise known about."
Those opportunities include his current position as Student Government Association (SGA) President for Ivy Tech's South Bend campus, former president of the Campus Activities Board (CAB), and a member of the Student Leadership Academy and Student Centered Scheduling Committee.
Howard is an SGA Scholarship recipient, which has allowed him to take on more classes at Ivy Tech. He's also a recipient of the Ivy Style award, which provides students a stipend to purchase professional clothing to better prepare for job interviews and business settings.
But Howard's leadership has since expanded beyond Ivy Tech. For Howard, giving back to his community is also a priority, and one he takes pride in as a volunteer with Hope for the Hungry, a nonprofit organization that supports with food assistance in South Bend communities that is currently operated by a former Ivy Tech student.
"I've always been the type of person to jump in and help out, no matter what the situation is," said Whetstone. "Volunteering with Hope for the Hungry has truly fulfilled a personal goal of mine."
As for his future, Howard wants to continue exploring opportunities in the healthcare industry and is hopeful his global workforce certificate will lead to even more possibilities. Even though his interests may have evolved over time, his life philosophy has become a lesson in accountability and a valuable reminder that continues to serve him well in both his personal and professional life.
"Get to know others, be a person of your word, and be consistent with what you do," he told us. "If you say you're going to do something, do it."
Tuesdays@TheTech
Visit Campus on Any Tuesday
Each Tuesday, our campuses hold an enrollment event designed for you to explore programs, get help applying and preparing for Ivy Tech classes, connect with career coaches, and more. Our team will work with you personally to answer any questions and help you determine the right next step.