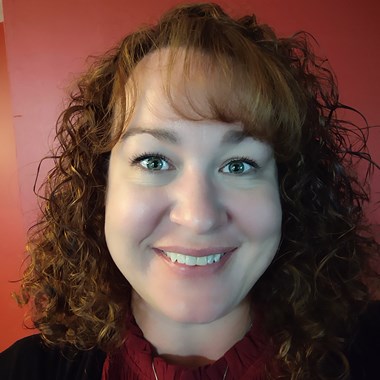 Look closely during crowd scenes of the movie "Major League II" and you may glimpse Ivy Tech alum Kristine Lewis' 13-year-old self and her family doing the wave. 
That filming did not catapult her into Hollywood stardom, but Kristine, who works in Regulatory Sciences as a supervisor at Cardinal Health, did become one of the college's shining stars.
"My journey at Ivy Tech started when I decided that I needed to go back to school to provide a better life for my family," Kristine says. "I knew I had more potential than the jobs I was working in and knew that I had to get a degree to get a career. Ivy Tech offered the flexibility, location, and low cost that I needed to be able to make returning to college work for my family."
Her journey included earning an Associate of Science degree in Biotechnology from Ivy Tech's Bloomington campus, then a Bachelor of Science from Indiana University. She went on to earn a master's degree in Regulatory Science from Johns Hopkins University in 2017 and is considering getting a professional certification to further her career.
Kristine, who lives just outside Ellettsville, Ind., says attending Ivy Tech changed the trajectory of her life, helping land her current "dream job." Her first attempt at college came directly after high school, but that was not a good fit.
"When I first started thinking about going back to school, I didn't know what field I wanted to be in," Kristine remembers. "Growing up, I had always thought I would be a doctor because I loved science.  Once I started seriously looking into schooling and degree options, I saw that Ivy Tech Bloomington offered an Associate of Applied Science (AAS) in biotechnology.  I had no idea what biotechnology was, but after doing some research, it was very intriguing. I also spent some time looking into the types of careers that the degree could get me.  Learning that the Bloomington area had several companies hiring for that degree was a major plus.
"Ivy Tech helped me learn the skills I needed for my start in industry and helped me build valuable relationships with other industry people through the community activities that Ivy Tech hosts. 
"I originally only intended to get my AAS in Biotechnology. However, one of my teachers encouraged me to consider furthering my education and told me about the degree transfer options Ivy Tech had with IU.  That encouragement set me on the path I am at today."
Kristine's job involves drug approvals, but Regulatory Sciences involves a broad range of products that must meet Federal Drug Administrators (FDA) regulations, such as medical devices and food.
Going back to college was daunting at times.
"It's scary. You never really know if you can do it," Kristine, who by that time was married with a young son, said. "The biggest challenge I overcame at Ivy Tech was my own lack of self-confidence. It had been so long since I had been in school that I no longer believed I was capable of achieving something better.  Once I started taking classes and saw the encouragement from the faculty, I realized I was capable and I did deserve to be there."
Without Ivy Tech, "college wouldn't have been an option," Kristine says, adding she received a Pell grant, was a 21st Century Scholar and received a scholarship from donors Steve and Connie Ferguson. "I couldn't have afforded it."
She continues to fight the perception that community college is a last resort.
"I fight that every day," she says. "I was able to directly transfer my degree. I had no issues as far as not being prepared for course material. The cost of college was astronomical compared to what Ivy Tech costs. Some people probably turn up their nose and think it's not quality, but if they spend even a little bit of time researching it, they will learn differently. Classes are small and you get to know your instructors."
Kristine enjoys spending time with her family, as well as reading, gardening, and watching her nearly 20 chickens. And she has one simple rule: "Treat people how you would like to be treated," she says. "Be kind."
Tuesdays@TheTech
Visit Campus on Any Tuesday
Each Tuesday, our campuses hold an enrollment event designed for you to explore programs, get help applying and preparing for Ivy Tech classes, connect with career coaches, and more. Our team will work with you personally to answer any questions and help you determine the right next step.