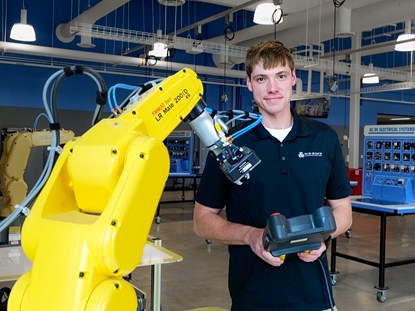 While a full-time student in Ivy Tech's Advanced Automation Robotics Technology (AART) program, Jared Boone also works at Mid-State Engineering as a controls engineer, enjoying what he does for a living.
"I never thought that education was a possibility for me," shared Jared. "I had to walk away from a full-time position with benefits and that was something that was incredibly hard for me to do but it was certainly worth it."
Now, just two years later, Jared is working in full time position as a controls engineer in the degree that he sought out.
"I met Jared in his early years of high school, and one day he asked me what I did for a living and in short I told him I play with robots all day," explained John Nelson, senior automation engineer with Mid-State Engineering, an automated solutions provider.
John reviewed Ivy Tech's AART program for Jared and told him the program was a solid foundation for a controls engineer position within Mid-State.
"Working at Mid-State became a goal about halfway through my program when I realized that I am an entry level student and I wanted to start getting real world experience," said Jared. "Seeing how I can start applying all the knowledge and the skills that I've been learning, and an internship was a great opportunity for me to be able to do that."
Ivy Tech's Career Link team worked with Mid-State Engineering to establish an internship that had not existed to that point for Jared. As Mid-State's first intern, Jared worked on many different projects over the course of his internship from welding and palatizing and 2D and 3D vision guided applications. With Jared's solid AART foundation, Mid-State fast tracked him through key applications and Jared was soon leading projects by himself.
"He really did an amazing job and hit the ground running," said John, who recommends every student connect with Career Link to build relationships with employers. "After seeing his passion for programming in the robotics field, we had to bring him on full time."
Jared echoed John's thoughts and added, "I would advise students to reach out to Career Link services because if it wasn't for them, I wouldn't have the position that I have right now. I would also recommend to students that they start an internship before they even graduate, so you can start learning how to apply all the knowledge that you've been taught in the classrooms."
Ivy+ Career Link Bridges the Gap
Career Link focuses on helping students find a fulfilling career path, honing employability skills, giving students access to a career coach, and partnering with employers to connect and interact early with students who are skilled and ready to meet the demands of the world of work.
Make your own connection with the Career Link team
PREPARE FOR WHAT COMES NEXT
Career Planning Advice Videos
Fast, fun, 1-3 minute videos featuring global experts with real world advice. How to be "career-ready," job search tips, how to find an internship, and more.