"I had never heard of a $20,000 sign-on bonus for surgical technology," Kristine Koehler said of her initial shock when she received a job offer from Franciscan Health Indianapolis after graduating from Ivy Tech Community College in May with her Associate of Applied Science in Surgical Technology. 
"It's really nice. I'm very fortunate, and I count my blessings because I never anticipated that lump sum of money," Koehler said. 
The compelling job offer from Franciscan was a welcome one that made Koehler feel as though her hard work for the last three years had finally paid off. 
While taking and studying for her classes on the Lawrence campus, Koehler worked full-time at IU Health and cared for her children, ages 15 and 7. 
Koehler found ways to build a work-life balance that worked for her and leaned on the support her Ivy Tech instructors offered her. 
"I've been fortunate to use a lot of my paid time off to help offset my work schedule so I can study and go to class," Koehler started. 
And on the other hand, Koehler's Ivy Tech instructors helped her as a mother by allowing her some flexibility when different occurrences with her kids arose. 
"My instructors were always very willing to work with me if I had an emergency and I had to miss class because of my kids. They were able to help me get my work done, get it in, and made sure I had the information I needed," she said.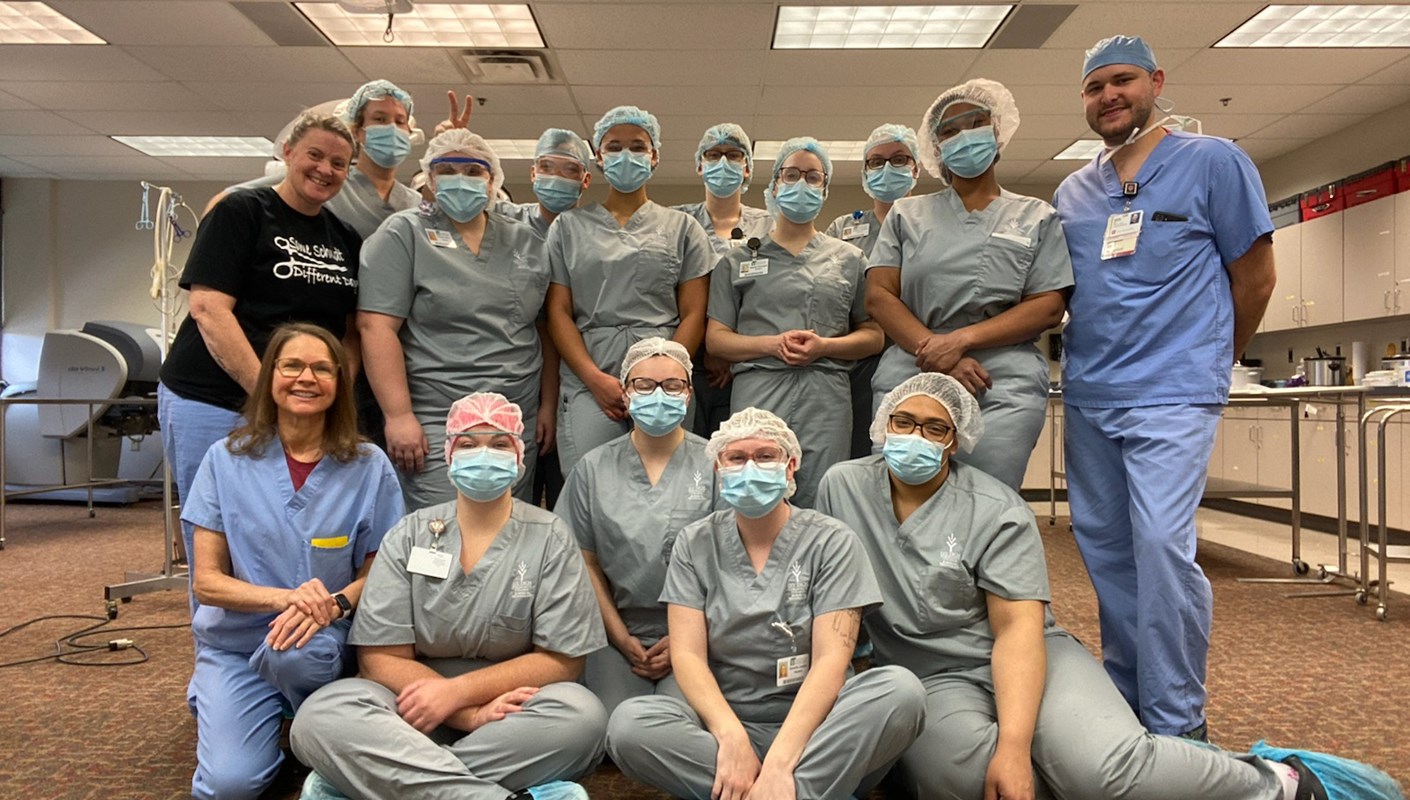 "I'm a full-time mom and student, working full-time. I can't even express the gratitude I have right now because of this opportunity."

– Kristine Koehler, AAS 2023
Koehler started her higher education journey at Ivy Tech, pursuing a degree track in nursing. Then, she saw a TV commercial. 
"I honestly can't remember what the commercial was for, but it was by a hospital system. And they were promoting surgical technology positions, and I saw how one-on-one they were with the providers and how much they actually did to help their patients. And I was like, 'Oh … that is more appealing to me than nursing,'" Koehler said of how she became interested in Ivy Tech's Surgical Technology program. 
Koehler said she was so happy she saw that commercial and changed tracks. 
"It's a very well-thought-out program. The teachers are phenomenal," Koehler started.
"My favorite part was the atmosphere, honestly. The instructors were just amazing with telling you the material in a very educational way but also in a way it clicked with you – it makes sense what you're learning. They don't just overwhelm you with information," she explained. "The lab time that we had helped us tremendously when we went into the hospital settings for clinical. So I feel like (Ivy Tech) sets you up for success."
Dr. Erika Di Porto, our Dean of the School of Health Sciences, says that Ivy Tech possesses a significant advantage in counteracting the steadily declining perception of the economic benefits of a college degree or certification. 
"The value proposition of Ivy Tech certificates and degrees is truly impressive," Di Porto says. "Life-changing opportunities – such as Kristine Koehler's – combined with the fact that a vast majority of our graduates have zero student loan debt, serve as powerful testimonials to the efficacy of our educational programs."
Koehler says that although she was nervous, stressed, and overwhelmed when she first began taking classes in January 2020 at 30 years old, she was encouraged by the Ivy Tech staff that helped her register for classes and walked her through everything she needed to know. 
"Ivy Tech is committed to delivering transformative educational experiences," Di Porto said. "Our wrap-around support services, academic resources, and commitment to excellent customer service are vital components in restoring the rightful perception of the value Ivy Tech provides."
Koehler says Ivy Tech sets you up for success. 
"They get you a counselor or an advisor who helps keep you on track. That way, you don't fall through the cracks or miss classes you might need to register for. They keep you on a good career path," Koehler said. 
"I was very determined not to stop. I have kids. I want to give them a good future," Koehler said. "I needed to follow through and get my degree, and I'm really happy I made it through."
"These life-changing opportunities, combined with the fact that a vast majority of our graduates have zero student loan debt, serve as powerful testimonials to the efficacy of Ivy Tech Community College's educational programs."

– Dr. Erika Di Porto
About Ivy Tech Community College
Ivy Tech Community College is Indiana's largest public postsecondary institution and the nation's largest singly accredited statewide community college system, accredited by the Higher Learning Commission. Ivy Tech has campuses throughout Indiana and also serves thousands of students annually online. It serves as the state's engine of workforce development, offering associate degrees, long- and short-term certificate programs, industry certifications, and training that aligns with the needs of the community. The College provides a seamless transfer to other colleges and universities in Indiana, as well as out of state, for a more affordable route to a bachelor's degree.