Before entering high school, Harmeet Kaur had already changed schools about 10 times.
As a non-native English speaker, the constant moving made her English as a second language (ESL) courses even harder than they already were. Not to mention being taught the standard elementary and middle school classes entirely in that second language.
"I relied on books that I bought for a couple of cents at garage sales to learn English and fix my reading and writing," Kaur said.
Neither of Kaur's parents matriculated past grade school while in rural India. So when they immigrated to America, Kaur's mother and father depended on her to learn English while also expecting her to keep up with their native tongue.
"I was expected to not only keep up with the culture and customs of our native country but also to learn the new ways of America, all while moving several times," Kaur said.
While in seventh grade, Kaur's father passed away, making her home life and the pressures of being a first-generation immigrant even more challenging.
"I had a completely wild home dynamic to deal with, it's safe to say," Kaur said.
Despite this, Kaur remained studious and dedicated to her studies. As a result, she graduated high school with honors and an International Baccalaureate (IB) diploma.
After graduating high school and going through a mentally tumultuous period, Kaur took a semester off to travel to India and clear her head. However, when she returned home to Indianapolis, Kaur says she experienced reverse culture shock and wasn't sure where to start.
"Just like any other Ivy Tech student, honestly, I didn't know what to do with the hurdles that I had already encountered in life and where to begin on the higher education journey," Kaur said.
Kaur decided to enroll at Ivy Tech Community College on the downtown Indianapolis campus. It was a decision Kaur says she made reluctantly. "I remember feeling very ashamed and confused," she said.
"There was this notion in high school that honors students like me don't belong in a place like Ivy Tech and that I should at the very least be striving for IUPUI, which was the very bottom of the bar," Kaur said, describing the stigma around community college at the time.
Kaur planned to be at Ivy Tech for a semester, get good grades in transferrable classes and apply to IUPUI as soon as possible. But then she met Dr. M. Beth Borst, our founding dean of Honors College. And just like that, the trajectory of Kaur's time at Ivy Tech Indianapolis and, subsequently, her higher education journey changed.
Dr. Borst talked with Kaur about Honors College and the cost-effectiveness of earning her associate's degree in business administration before pursuing her bachelor's – and she was off to the races.
"Now, in retrospect, I completely disagree with anyone who has the assessment that any high school honors student shouldn't consider community college," Kaur said. "Ivy Tech changed my life. I've said it before, and I'll say it again – I wouldn't be where I am now without Ivy Tech."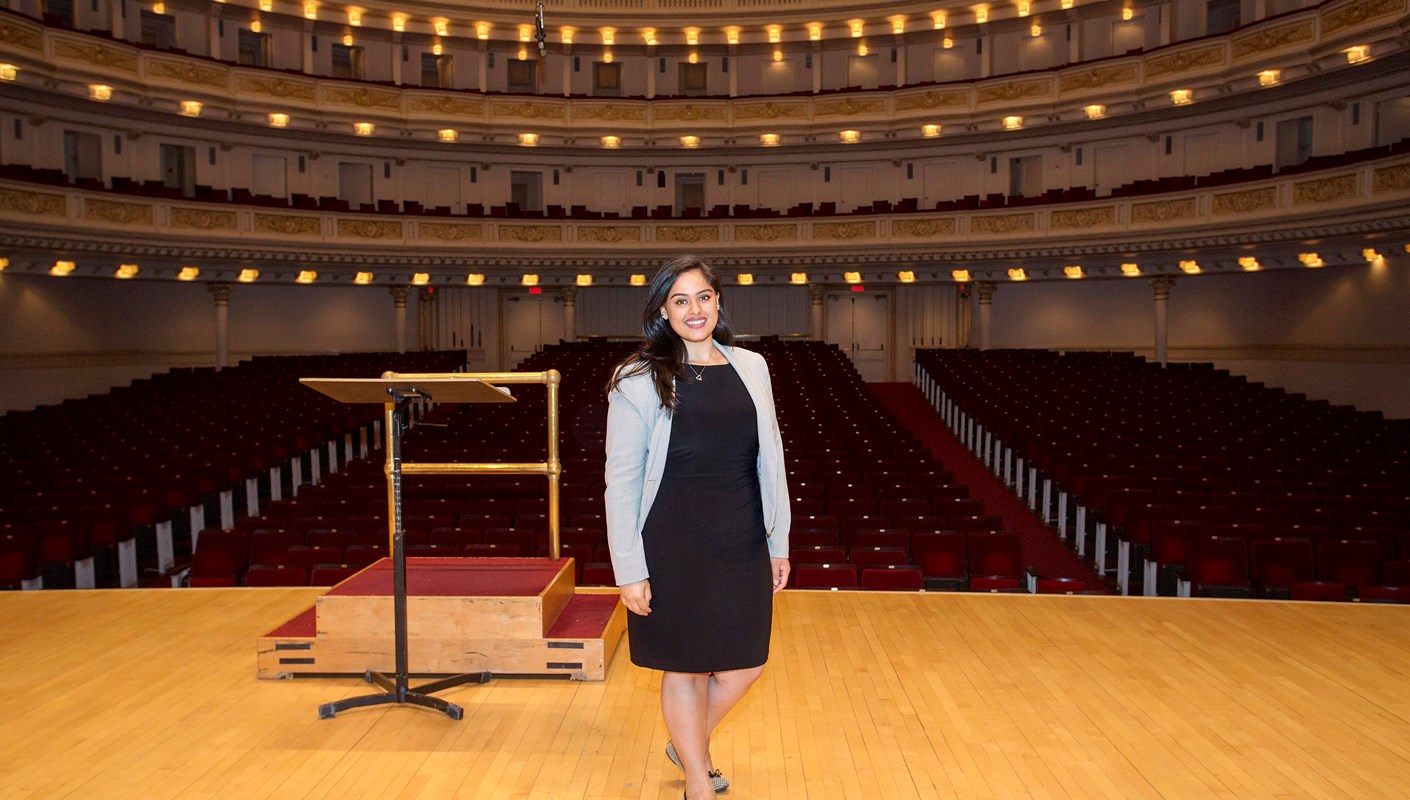 Kaur experienced several influential moments during her time at Ivy Tech Indianapolis, starting with one of her very first Honor's College classes instructed by Dr. James C. Duncan, our current director of Global Education and humanities professor. The course was titled "Philosophy of Religion," and Kaur says the lessons she learned in the class are still instrumental in how she approaches various decisions in her personal and professional life.
Kaur says she found value in just about every class she took at Ivy Tech. Especially her English courses, where she re-learned essay writing more comprehensibly.
Overall, Kaur says the term "it is what you make it" is especially true at Ivy Tech Indianapolis.
"I remember a teacher told me that you'll find that in high school, you'll have support from people who want to help you even though you don't want to help yourself. But when you're in college, you have to be able to help yourself in order for people to want to jump in and help you. I think that was so true of what happened at Ivy Tech," Kaur explained.
Kaur says the faculty at Ivy Tech Indianapolis was always ready to help, and they never made her feel rushed to understand something. Instead, they granted her grace and showed new ways of completing assignments and understanding lessons. And when she was doing exceptionally well in a class, they encouraged her behavior and made her feel seen.
"I think Ivy Tech professors and adjuncts do a great job of keeping an eye on those students that are actually trying and making an effort and then telling them we see you and we're here for you and know that we have all the resources, tools, and all the time in the world to help you succeed. And they did just that," Kaur said.
Kaur went on to be part of several clubs and organizations at Ivy Tech.
Kaur became the president of Phi Theta Kappa. She was a Phi Beta Kappa Society member and a Business Honor Society member. She served as a student advisor for Dr. Cynthia Porter Rickert, a psychology professor on the Indianapolis campus, who became a close mentor to Kaur.
"I got lucky with the fact that I had many female mentors while I was at Ivy Tech," Kaur said.
After graduating from Ivy Tech in 2013, Kaur earned her Bachelor of Science from the Kelley School of Business at Indiana University and later her Master of Science in Negotiation and Conflict Resolution from Columbia University. Kaur also interned for the City of Indianapolis and worked as an Honors Program Coordinator at Ivy Tech Indianapolis. Kaur went on to work for the United Nations as an apprentice and most recently landed at Fourwinds Tours & Travel as the Director of Operations and Development. She says she loves her job at Four Winds and will be working on climbing up the ranks.
"Ivy Tech is a firm step on a shaky ladder," Kaur began.
"I was allowed a second chance, and I was allowed a fresh start to build my own foundation with professors and advisors who actually cared. They understand that people come from all walks of life and that it's okay to use an alternative educational method to apply and bring yourself up to speed with the rest of the world," Kaur said. "Ivy Tech does a great job of actually understanding that not everyone gets to start the race at the same time. There are underlying privileges and advantages for some students that aren't always allotted to others."
Kaur says if she could impart her most significant recommendation to soon-to-be graduates of Ivy Tech, it would be: "You haven't come this far just to come this far."
This article was originally published in the 2023 issue of the Ivy Indy magazine.
About Ivy Tech Community College
Ivy Tech Community College is Indiana's largest public postsecondary institution and the nation's largest singly accredited statewide community college system, accredited by the Higher Learning Commission. Ivy Tech has campuses throughout Indiana and also serves thousands of students annually online. It serves as the state's engine of workforce development, offering associate degrees, long- and short-term certificate programs, industry certifications, and training that aligns with the needs of the community. The College provides a seamless transfer to other colleges and universities in Indiana, as well as out of state, for a more affordable route to a bachelor's degree.