Our very own Brady Foster came in first place at the TURN Festival's Perfect Bite Competition hosted at the Indianapolis Paramount Schools of Excellence in September! 
Chef Foster is one of three finalists who received a "golden ticket," instantly placing them on Team Indiana to compete at the World Food Championships in Dallas, Texas, next month. 
"This is a blessing," Foster said. "I went into this competition just trying to do my best. These people are titans in our industry, so to come away with a win is just a blessing to me."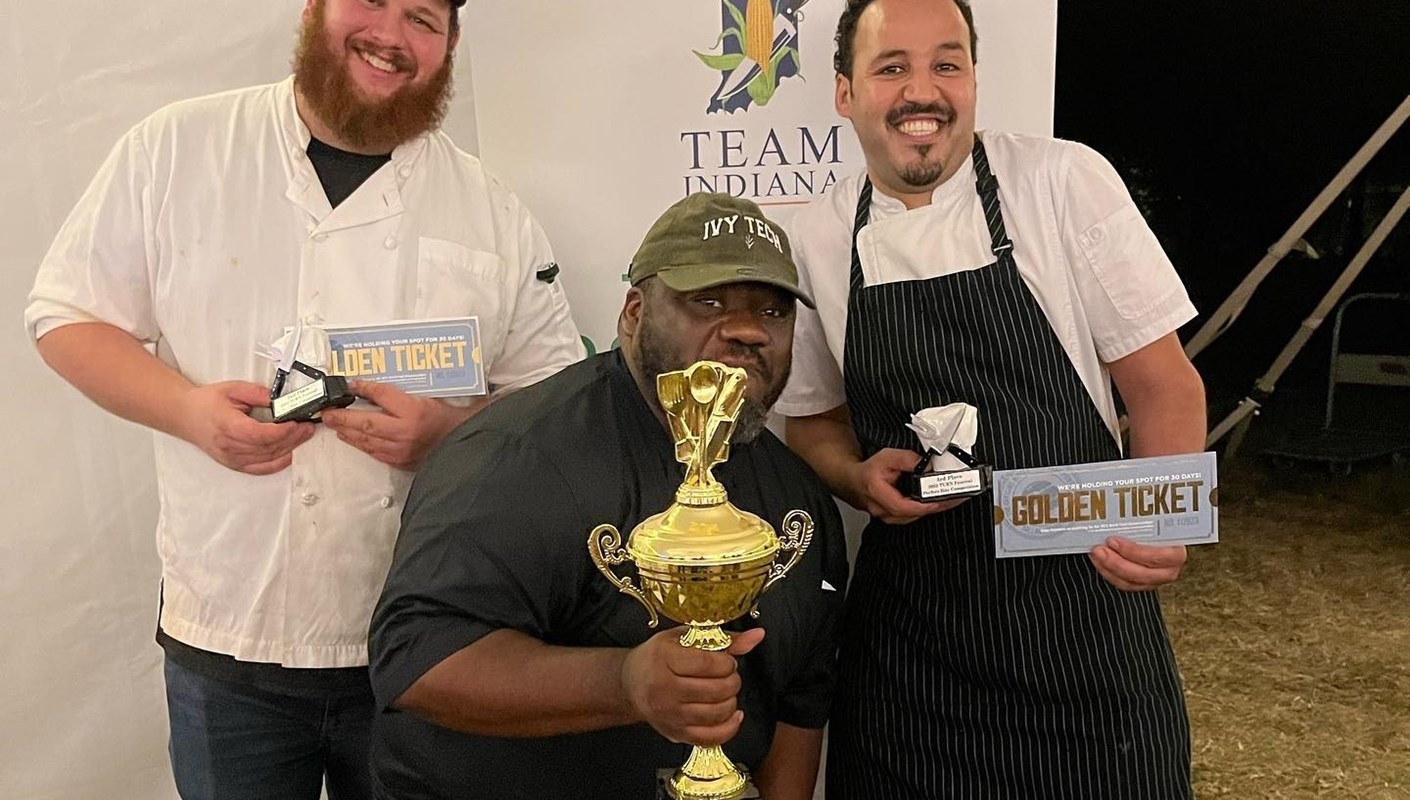 This year's Perfect Bite Competition featured 20 Indiana chefs and two rounds of competition. The first stage of the match was about boiling it down from 20 contestants to just four, as ticket-holders in attendance had the opportunity to taste all of the food and cast their votes for their favorite. Foster said the second round was Chopped-style, and a panel of judges tasted and ranked the dishes.
Foster's winning dish was seared lamb chops with pumpkin polenta and sofrito.
"It all ended up turning out very well. It was a blessing because I was able to get some of the things that I'm used to making, but I had the opportunity to put my own twist on it," Foster said.
Foster, a 2017 Ivy Tech Indianapolis Culinary Arts graduate, owns Foster's Cafe and Catering, located on the Lawrence campus. He took over the former Circle City Soups space, owned by Chef Roger Hawkins, in March 2020, right before the throes of the COVID-19 pandemic.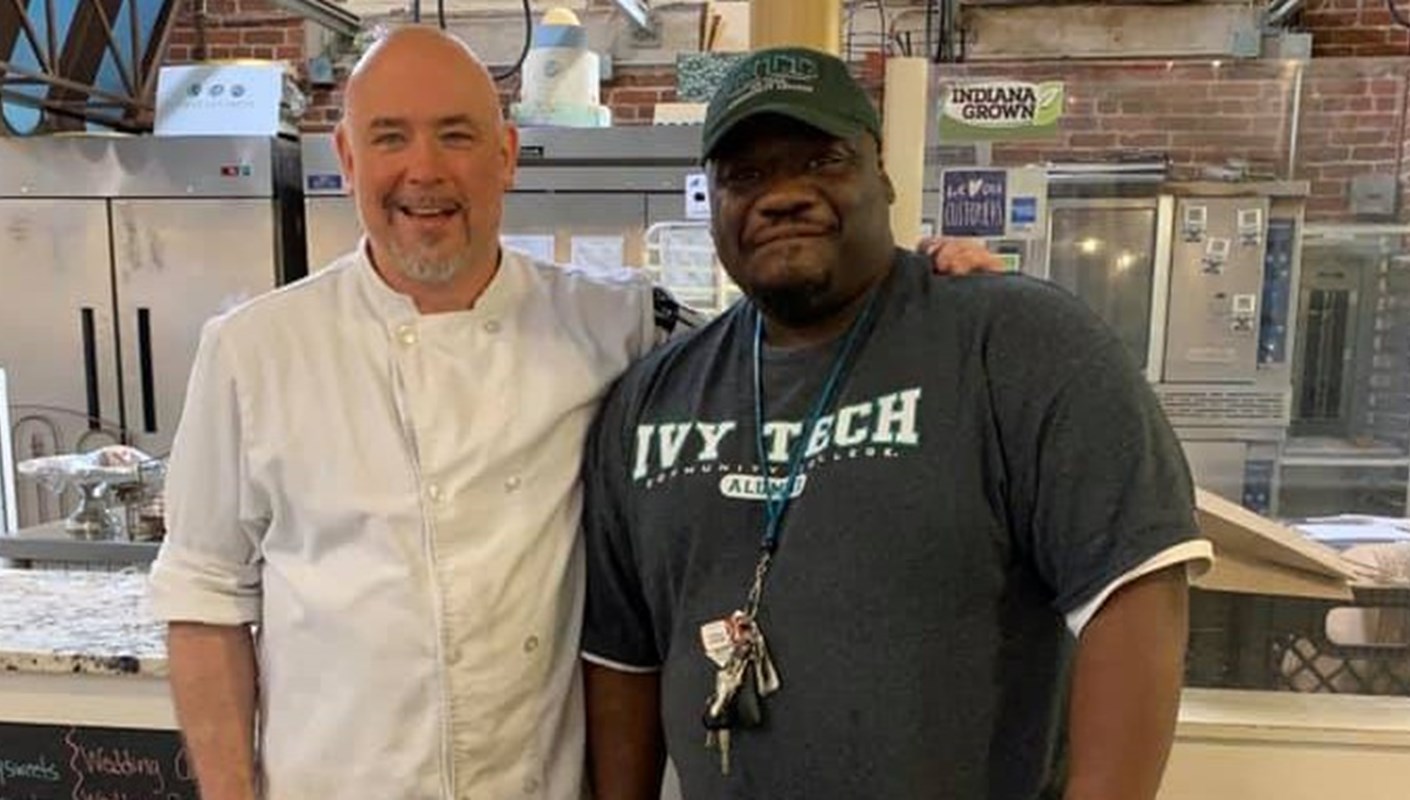 "The first week I opened, it was great. The second week I was open, Ivy Tech had to close down," Foster said. 
Of course, as we all now know, several months would pass before any semblance of normalcy would return. 
Foster said he wouldn't have made it through the closure without Ivy Tech's kindness.
"I think God for Ivy Tech because they allowed me to remain in that space in Lawrence during that difficult time," Foster said. 
"All the savings that I had was gone. All the money friends had given me to help start my business was also gone. And I wasn't able to get any loans because the government was like, 'you're a new business and you haven't lost enough money,'" Foster said. "But God got me through, and we just adapted as best we could until it was time to fully open up." 
Foster's Cafe and Catering has been rockin' and rollin' inside the Fairbanks Building ever since, offering an assortment of breakfast and lunch specialties, including salads, sandwiches, bowls, fries, and more. 
After getting some time in the cafe under his belt, Foster decided at the start of 2023 that he was ready to enter some competitions. 
In February, he won Second Helpings' annual Souper Bowl with his Ethiopian Spiced Smoked Lamb Stew. Then, Foster put his hat into the ring with the Perfect Bite Competition less than 10 months later and came out on top!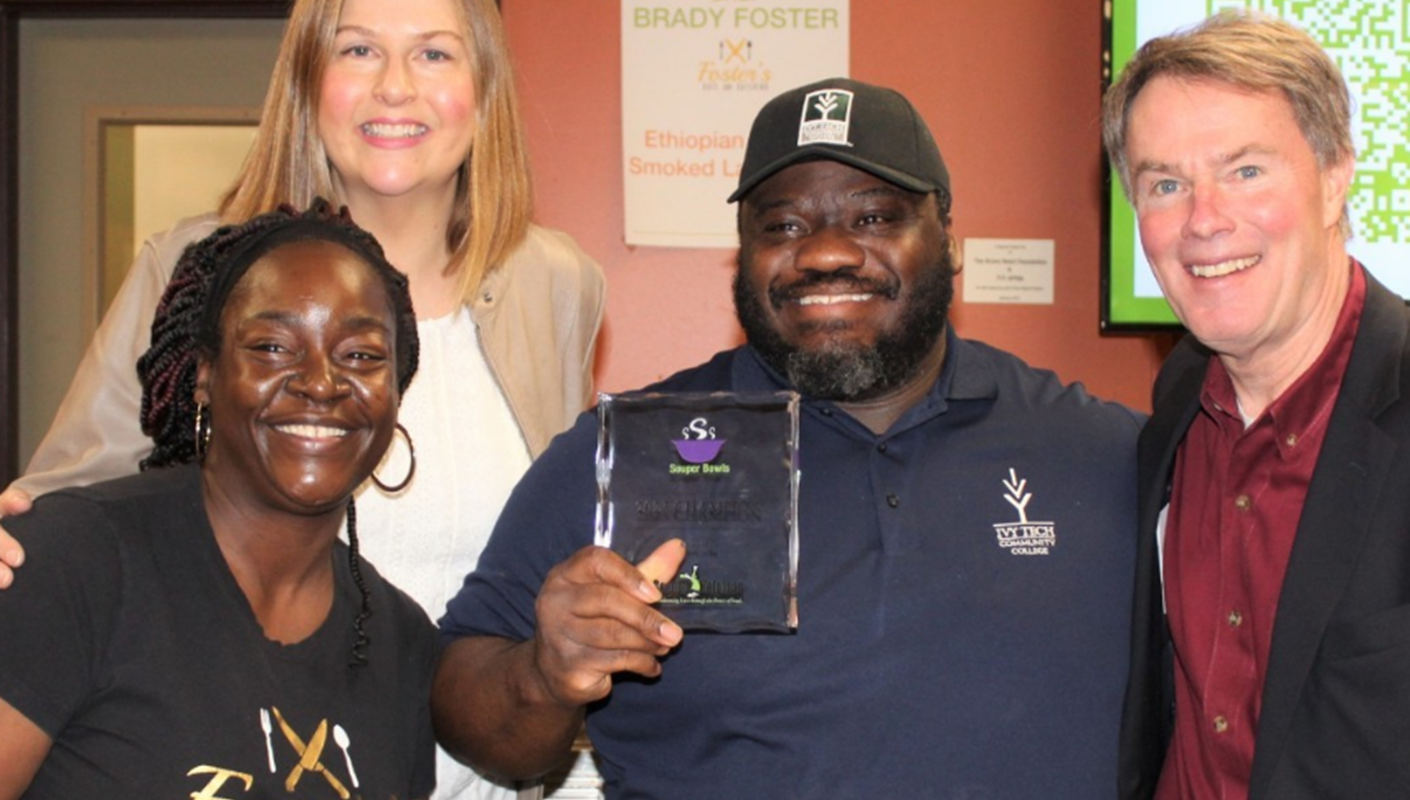 "This is one of those moments that is hard to quantify in words," Foster said. "I'm a proud Ivy Tech grad. If anything else, I hope to make Ivy Tech proud. Ivy Tech is my family, my community. And in whatever I do, I try to make God, my community, and my family happy." 
You can learn more about Foster's Cafe and Catering on their website,  fosterscafeandcatering.com. Follow them on Facebook and watch for how Foster and Team Indiana do in the World Food Championship, November 9 through 12, on the Ivy Tech Indianapolis News and Notes Page. 
About Ivy Tech Community College
Ivy Tech Community College is Indiana's largest public postsecondary institution and the nation's largest singly accredited statewide community college system, accredited by the Higher Learning Commission. Ivy Tech has campuses throughout Indiana and also serves thousands of students annually online. It serves as the state's engine of workforce development, offering associate degrees, long- and short-term certificate programs, industry certifications, and training that aligns with the needs of the community. The College provides a seamless transfer to other colleges and universities in Indiana, as well as out of state, for a more affordable route to a bachelor's degree.