Eleven high school students signed on to join the third cohort of the Northeast Indiana Federation for Advanced Manufacturing Education (NEINFAME)—a partnership that includes Ivy Tech Community College Fort Wayne—on April 27. Cohort three students, along with company representatives and mentors, signed certificates commemorating their acceptance into the program at Ivy Tech Fort Wayne's Flex Lab within The Steel Dynamics, Inc. Keith E. Busse Technology Center.
"Northeast Indiana FAME is excited to be signing eleven students into this year's program," says Staci Beiswanger, Employee Development Manager at Steel Dynamics, Inc. "Northeast Indiana sponsoring employers have seen the success of the program as the first class of NEINFAME students are scheduled to graduate on May 12, and they will transition into full-time roles at their sponsor companies. This program is a win-win for students and employers."  
The program, which signed its first cohort in 2021, celebrates its first graduates this spring. All recruits pursue a two-year associate degree in Industrial Technology from Ivy Tech while working for a NEINFAME sponsor company. Sponsor companies provide students with paid work experience giving them the opportunity to earn adequate income to pay for the costs of the program, graduate debt-free, and begin an exciting career in just two years.
The following students make up the 2023–24 cohort:
Jeremy Smith, Blackhawk Christian (AMT)
Samuel Joseph, Columbia City High School (Fort Wayne Metals)
Eric Tippmann, Bishop Dwenger High School (Fort Wayne Metals)
Caden Egner, North Manchester High School (Micropulse)
Allen Archbold, Columbia City High School (Micropulse)
Isaac Garrison, DeKalb High School (Steel Dynamics, Inc.)
Colton Penick, Prairie Heights High School (Steel Dynamics, Inc.)
Izak Demorest, Leo Junior-Senior High School (Steel Dynamics, Inc.)
Logan Dunnuck, Columbia City High School (Steel Dynamics, Inc.)
Jackson Poe, Warsaw Community High School (Zimmer Biomet)
Zackary Wall, DeKalb High School (Zimmer Biomet)
"Our campus is proud to partner with NEINFAME as it strengthens our mission to create opportunities to ensure we're graduating a skill-ready workforce," says Dr. Kim Barnett-Johnson, Chancellor of Ivy Tech Fort Wayne & Warsaw. "The success of the program wouldn't be possible without the continuous support of sponsor companies and dedicated Ivy Tech faculty members, who work tirelessly to make sure our students get the most out of the experience."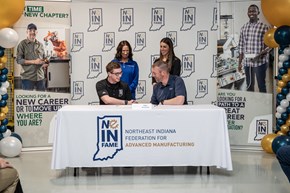 Students get to train in Ivy Tech Fort Wayne's Flex Lab space—a multi-million-dollar facility, funded in-part by NEINFAME sponsor companies, full of tools needed to learn advanced manufacturing technologies including robotics, automation, electrical, hydraulic, mechanical, safety, and more. It also houses state-of-the-art equipment including mechatronic fully automated systems, FANUC robots, Allen Bradley programmable logic controllers, variable frequency drives, IO- Link, and Cognex machine vision.
NEINFAME sponsor companies include Fort Wayne Metals, LH Industries, Micropulse, Steel Dynamics Inc., Advanced Machine and Tool (AMT), Tecomet, Metal Technologies, Valbruna Slater Stainless, Inc., and Zimmer Biomet. NEINFAME is part of the national FAME-USA network (fame-usa.com) and the statewide Indiana FAME initiative, which has built similar partnerships in four regions around Indiana (indianafame.com).
Applications for the fall 2024 cohort are accepted year-round. Learn more about NEINFAME at neinfame.com. Contact Staci Beiswanger at 260-969-3506.
About Ivy Tech Community College
Ivy Tech Community College is Indiana's largest public postsecondary institution and the nation's largest singly accredited statewide community college system, accredited by the Higher Learning Commission. Ivy Tech has campuses throughout Indiana and also serves thousands of students annually online. It serves as the state's engine of workforce development, offering associate degrees, long- and short-term certificate programs, industry certifications, and training that aligns with the needs of the community. The College provides a seamless transfer to other colleges and universities in Indiana, as well as out of state, for a more affordable route to a bachelor's degree.