On April 26, Ivy Tech Community College Fort Wayne healthcare students and faculty came together to give back to the local Ronald McDonald House with a dinner and hundreds of dollars' worth of donations.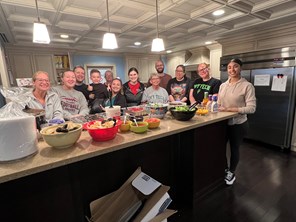 "It was wonderful to have the Ivy Tech Health Sciences group in the Kindness Kitchen," says Sarah Tharp, Director of Operations at the Ronald McDonald House Charities of Northeast Indiana. "For families coming back to the House after a long, often emotional day bedside with their hospitalized child, a warm, yummy meal brings such comfort and relief. Food is our love language."
To benefit the Kindness Kitchen, Assistant Chair of Health Sciences Janelle Gresla recruited more than a dozen students to help prepare and cook the meal that needed to serve between 30 to 40 people. It took all day to prepare the food, which included eight casseroles, meatballs, salad, cherry cheesecake brownies, and much more.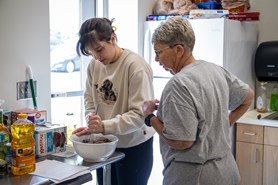 "This is an important project for Health Science students because it's good for them to learn life skills for helping people," says Gresla. "I want them to influence families undergoing health crises."
While this project is meant for students to lend a hand in the community, it's also a matter very close to Gresla's heart.
"This all started in honor of my granddaughter, Millie. She was born in mid-December and has been in the hospital ever since. My son and his wife have been using the Ronald McDonald House in Cincinnati, while she's receiving care."
Millie was born six and a half weeks early and suffered from several health problems. It hasn't been an easy road for Gresla's family, but doctors have expressed hope that Millie should be able to go home by the end of May.
Through all this, her family has been thankful for the support of the Ronald McDonald House. Gresla says she was able to understand and research the needs of families using its services and decided to give back at a local level.
"As a community college, we're here to make a difference in the community around us. These families are tired after spending long days in the hospital with their children. Something like this can make a world of difference."
Ivy Tech also gave back through the Mighty Munchables Snack Drive. Programs like Respiratory Therapy, Surgical Technology, and EMS donated supplies and money estimated to be worth more than $300. Their donations included items such as plates, cups, food, drinks, laundry baskets, and hand sanitizer.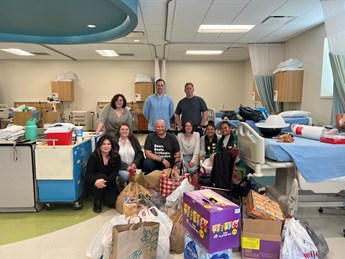 Gresla was delighted with the number of students who volunteered on their off day from class and the response of other programs donating items. She is hopeful this opportunity can be extended to future students because she says there was good that came out of it in more than one way.
About Ivy Tech Community College
Ivy Tech Community College is Indiana's largest public postsecondary institution and the nation's largest singly accredited statewide community college system, accredited by the Higher Learning Commission. Ivy Tech has campuses throughout Indiana and also serves thousands of students annually online. It serves as the state's engine of workforce development, offering associate degrees, long- and short-term certificate programs, industry certifications, and training that aligns with the needs of the community. The College provides a seamless transfer to other colleges and universities in Indiana, as well as out of state, for a more affordable route to a bachelor's degree.