If you'd asked Omyya Be two years ago where she'd be today, she wouldn't have told you she was about the walk across the stage to retrieve her diploma. She never planned to go to college. Now, she's about the get her associate degree in Business Administration from Ivy Tech Community College Fort Wayne.
Getting here was a long road. When Omyya was five years old, her family left Burma to live in the United States. Her home country is lost from her memory, but there's one thing she k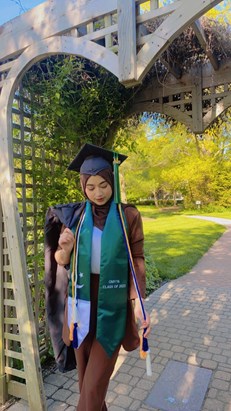 eeps close to her: her native language. 
"I started school here when I was in kindergarten," Omyya says. "I didn't know anything about my country and learned about it through school. I self-taught my language."
At ten years old, she began interpreting for her family and friends in her Georgia community. At 20, she's working two part-time jobs as a Burmese interpreter in Fort Wayne.
"Being an interpreter is really challenging, but at the end of the day, I know that I'm helping the workers do their job."
Omyya's family moved to Indiana in 2021 to be closer to other relatives. When they got here, a family friend introduced her to a company that needed a new interpreter. She didn't realize that would open the door for her future career plans, especially after attending Ivy Tech.
"I didn't want to go to college, but I had friends going to Ivy Tech and they said good things. So, I went on a couple college visits, and I fell in love with the people here because they're just so kind and nice."
At the time she started to think about college, her parents encouraged her to go into either nursing or business. Omyya, knowing she didn't want to go into a healthcare profession, chose the latter. She really didn't know what she'd do with the degree once she got it, until she took a public speaking course.
On the first day, Omyya was nervous. She was afraid of speaking in front of the entire class each week. But ultimately, it was one of her best experiences at the college.
"That class made me more confident in myself and comfortable speaking in public. It also made me learn how to memorize. That class was very challenging, but I loved it."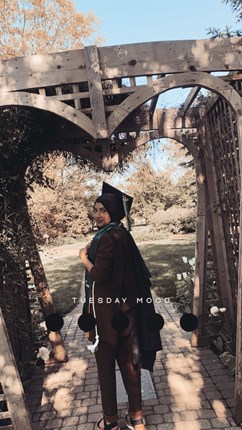 Her other business classes helped her become more comfortable speaking, too. She started to enjoy presenting projects before her peers. It also helped her as she continued to interpret for her two jobs.
Now, as Omyya prepares to walk across the stage, she is looking forward to the future and becoming a full-time interpreter. After graduation, she even plans to visit her old friends in Georgia and take a short trip to Florida to celebrate.
"I'm proud of myself because this wasn't something I wanted to do, but I made it work and worked hard, and I hope my family is proud. It's been a journey."
About Ivy Tech Community College
Ivy Tech Community College is Indiana's largest public postsecondary institution and the nation's largest singly accredited statewide community college system, accredited by the Higher Learning Commission. Ivy Tech has campuses throughout Indiana and also serves thousands of students annually online. It serves as the state's engine of workforce development, offering associate degrees, long- and short-term certificate programs, industry certifications, and training that aligns with the needs of the community. The College provides a seamless transfer to other colleges and universities in Indiana, as well as out of state, for a more affordable route to a bachelor's degree.