FORT WAYNE, Ind.– Every year, two select groups of 12 people are chosen to spend six months in the Golden State with a goal of becoming certified Porsche technicians. Imagine Caleb DeKeyser's excitement when Porsche chose him for the program—thanks, in part, to an Automotive Technology degree and guidance from Ivy Tech Fort Wayne faculty.
Caleb describes his experience at the Porsche Technology Apprenticeship Program (PTAP) as a "bootcamp" for all things Porsche. It involves spending half a year in California while living in housing the company provides and dedicating nearly every day to working on cars. He says the knowledge he gained there could've filled an entire year. But when you work with Porsche, it's quality over everything else.
"It's basically everything that's within other car companies magnified times ten because you're not working on a $20,000 car, you're working on a $200,000 car," Caleb says.
It wasn't just luck that earned him his place in PTAP. Hard work got him to where he is today, a trait he's carried from a young age.
As an early teen, the Michigander saved up money to buy a dirt bike. He says he and his brother liked to tinker with and modify it. From dirt bikes, they experimented with four-wheelers before moving on to cars. Caleb loved working with all aspects of it, from maintenance to performance.
"We liked going fast, the thrill of it, and when I bought cars, I'd always liked going off-roading and driving fast."
Working with performance cars became his dream. So, when his parents moved from northern Michigan to Angola, Ind., he went off to Tennessee for college in hopes of making that dream come true. He was only there a year before he needed a change, so he opted for a school close to home: Ivy Tech Community College Fort Wayne.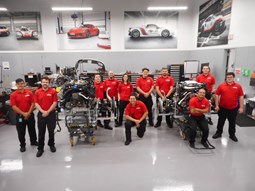 Caleb didn't foresee himself working with luxury cars, but he put in the work for an Automotive Technology technical certificate. Not only did he squeeze three semesters into two, but he also worked part time while commuting to and from Angola.
"If you pay attention and get as much out of it as you can, then you can do some damage in the shop."
His effort paid off as teachers took notice. Caleb credits automotive instructor Paul Wright for noticing the work he was putting in and helping him land his dream opportunity. He says Wright got him in contact with Porsche Fort Wayne, where Caleb began working with the Audi's while continuing his education. PTAP gave him a career boost, and he's now a fully certified Porsche technician.
At 23, he's living a life many people dream about: happily married, a soon-to-be father, and working a job he loves while living without college debt. But Caleb's ambition is still strong, and he hopes one day he can open his own shop.
For those pursuing a similar path, he offers this advice: pay attention in class, work hard, and don't let buying tools bring you into debt.
About Ivy Tech Community College
Ivy Tech Community College is Indiana's largest public postsecondary institution and the nation's largest singly accredited statewide community college system, accredited by the Higher Learning Commission. Ivy Tech has campuses throughout Indiana and also serves thousands of students annually online. It serves as the state's engine of workforce development, offering associate degrees, long- and short-term certificate programs, industry certifications, and training that aligns with the needs of the community. The College provides a seamless transfer to other colleges and universities in Indiana, as well as out of state, for a more affordable route to a bachelor's degree.