INDIAN HARBOR BEACH, FL – Ivy Tech Community College President Emeritus Gerald I. Lamkin has died. He was 86.
Lamkin served as the president of both Ivy Tech Community College and the Ivy Tech Foundation from 1983-2007.
In his 40 years with the College, Lamkin served in a variety of roles, starting as a part-time instructor in 1967, just four years after the College was created by the Indiana General Assembly as the Indiana Vocational Technical College. He served as a full-time accounting and management instructor before moving into administrative roles including the business manager and director of education for the then-Indianapolis Region, dean for the then-Muncie and Richmond regions, and statewide vice president of operations before assuming the presidency in 1983. During his tenure, Ivy Tech went from an enrollment of approximately 45,000 to over 120,000 students in 13 individual regions with no transfer degrees to one comprehensive statewide community college with 23 locations.
Our dad lived his life to help others and always wanted to see others improve their lives. A problem solver by nature, he did not believe in the word 'can't'.

– Jeri Criddle, his daughter and family spokesperson
A Hoosier native, Lamkin was born in Rising Sun, Indiana in 1936 and graduated from Rising Sun High School, where he played baseball, basketball and ran track. After graduating, he joined the United States Air Force. He later attended Indiana State University, where he earned both a Bachelor of Science and Master of Science in Business Education. He worked for St. Louis Public Schools, the Ford Foundation Project, Ford Motor Company, and Indianapolis Arsenal Technical High School. 
No single leader has had more impact on Ivy Tech than Gerald Lamkin; he was the father of Indiana's community college system. His visionary leadership transitioned the College from a vocational school and positioned it to become what it is today: Indiana's workforce development engine.

– Sue Ellspermann, Ivy Tech President
"His commitment to student success and serving community needs led to the College's expansion in locations, programs, degree offerings, and transfer opportunities," Ellspermann said. "As the College celebrates its 60th anniversary, we owe a debt of gratitude for Jerry's vision and effort. Indiana's higher education and workforce development landscape is forever changed because of him."
Among his many professional accomplishments, Lamkin was known for the love of his family and friends. He was a devout Christian and always had a positive attitude. He would lend a helping hand to all those in need. He was steadfast in his commitment to help others change their lives and make Indiana better.
A five-time recipient of the Sagamore of the Wabash, the highest honor an Indiana governor can bestow, Lamkin volunteered and served on numerous community boards and organizations. His affiliations included: American and Indiana Vocational Associations; American Association of Community Colleges; American Legion Post #59 - Rising Sun, Indiana; American Technical Education Association; Association of Community College Trustees (Advisory Committee of Presidents); Association of Governing Boards (Council of Presidents); Athenaeum Foundation – Indianapolis (past chairman); Building Trades Apprenticeship Coordinators (directors of Indiana); Clan McLaughlin Society; Columbia Club Foundation - Indianapolis (past chairman); Council of North Central Two Year Colleges; Indiana Chamber of Commerce (Life Member, Emeritus); Indiana Conference of Higher Education; Indiana Council of Vocational administrators (past president); Indianapolis-Cologne Partnership Cities (past member and chairman); Indiana German Heritage Society; Indiana Manufacturers Association; Indiana National Guard Foundation; Indianapolis-Cologne Partnership Cities (past member and chairman); International School of Indiana (past board member); International Sheet Metal Workers of America Accreditation Board; Phi Theta Kappa International Society of Two Year Colleges (president ambassador); Scottish Society of Indianapolis; Project 21 Planning and Assessment Committee for Vocational Education; and Zion Evangelical United Church of Christ – Indianapolis.
Lamkin is preceded in death by his parents, Robert Clayton and Ethel (McLaughlin) Lamkin, and brothers Robert James Lamkin and Clayton Byram Lamkin. He is survived by his wife, Louise (Theilig) Lamkin, son, William Ray Lamkin of Indianapolis, daughter Jeri (Lamkin) Criddle and son-in-law Troy Dempsey-Criddle, III of Florida, four grandchildren (Tyler Gerald and Nolan Leo Lamkin, Alison Louise Shields, and Ethan Ryder Criddle), and one great-grandson (Tyler William Lamkin).
Funeral and visitation arrangements are forthcoming, but the Lamkin family has requested that in lieu of flowers, memorial contributions be made to the Gerald and Louise Lamkin Scholarship with the Ivy Tech Foundation.
"Ivy Tech has always been a big part of our family and we hope to continue our father's legacy by creating more scholarships for students and staff. Nothing would make him more proud than for his family and friends to continue to support a cause that was most important to him, helping others to succeed," said Criddle.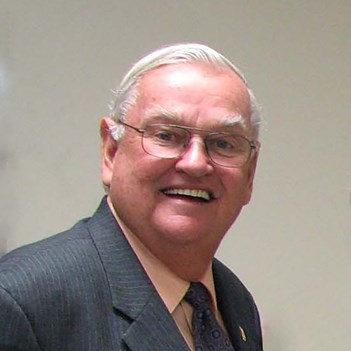 Gerald "Jerry" I. Lamkin
July 27, 1936 – June 3, 2023
"Economic Development is about people striving for a good life for themselves and their families."
Media Contacts:
Mary Jane Michalak
Vice President of Legal and Public Affairs
mmichalak@ivytech.edu  
Jennifer Hashem
Executive Director of Public Affairs
jhashem1@ivytech.edu  
About Ivy Tech Community College
Ivy Tech Community College is Indiana's largest public postsecondary institution and the nation's largest singly accredited statewide community college system, accredited by the Higher Learning Commission. Ivy Tech has campuses throughout Indiana and also serves thousands of students annually online. It serves as the state's engine of workforce development, offering associate degrees, long- and short-term certificate programs, industry certifications, and training that aligns with the needs of the community. The College provides a seamless transfer to other colleges and universities in Indiana, as well as out of state, for a more affordable route to a bachelor's degree.