INDIANAPOLIS, Ind. – The Ivy Tech Foundation recently recognized 19 Benefactor Award winners at its Distinguished Alumni Awards Ceremony last week.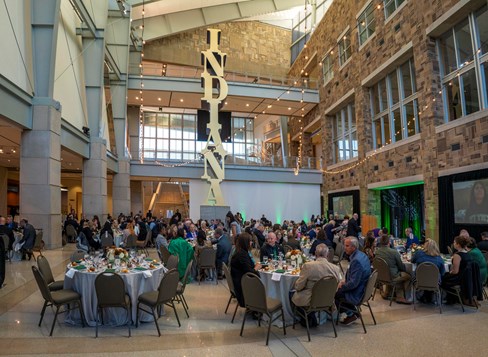 During this event, the Foundation honors individuals, corporations, and foundations from Indiana who have considerably impacted Ivy Tech communities and students. The award celebrates the gifts and volunteer service that has been contributed to the College.
"Our Benefactors make a powerful difference in the lives of our students," said Courtney Roberts, President of the Ivy Tech Foundation. "Their contributions ensure that our graduates are better prepared for life after college, and we are deeply grateful for their investment in Ivy Tech."
"The passion our Benefactors have for Ivy Tech students is unmatched," said Dr. Sue Ellspermann, President of Ivy Tech Community College. "Thanks to their generosity and volunteerism, our students can confidently pursue pathways that lead to high wage, high-demand careers that strengthen our communities and power the State of Indiana."
The following benefactors received an award for 2022:
Anderson: Patricia Toombs
Bloomington: Lynn Coyne
Columbus: Anthony Moravec
Evansville: William "Bill" Shinn
Fort Wayne: Merland Beyler and Janet Geib
Hamilton County: Hamilton County Community Foundation
Indianapolis: Indy Achieves/City of Indianapolis
Kokomo: The Hingst Family
Lafayette: North Central Health Services, Inc.
Lake County/Valparaiso: Peoples Bank – A Finward Company
Lawrenceburg: Ohio County Community Foundation
Madison: Grote Industries Inc.
Marion: Dr. John M. Lightle
Muncie: Magna Powertrain of America Inc.
Richmond: Gerald "Gerry" Gerard
Sellersburg: Baptist Health Systems
South Bend: Beacon Health System
Terre Haute: John Adkins
For more information, photos, and biographies for each recipient, visit www.ivytech.edu/benefactors.
About the Ivy Tech Foundation
The Foundation's most important function is to provide support for Ivy Tech Community College beyond state appropriations and student fees. Its overall program of work focuses on meeting student needs. Invest IN Ivy Tech, a $285 million statewide fundraising campaign, provides greater opportunity for each of the College's 19 campuses to educate, train, and support all 92 of Indiana's counties. Learn more at www.ivytech.edu/InvestINIvyTech.
About Ivy Tech Community College
Ivy Tech Community College is Indiana's largest public postsecondary institution and the nation's largest singly accredited statewide community college system, accredited by the Higher Learning Commission. Ivy Tech has campuses throughout Indiana and also serves thousands of students annually online. It serves as the state's engine of workforce development, offering associate degrees, long- and short-term certificate programs, industry certifications, and training that aligns with the needs of the community. The College provides a seamless transfer to other colleges and universities in Indiana, as well as out of state, for a more affordable route to a bachelor's degree.