The function of Sponsored Programs Office is as follows: 
Partner with local campus and system office teams on grant submission and management 
Provide training and technical assistance to campuses throughout the life of their grant 
Review grant reports, including progress and close out reports 
Maintain strong partnerships with sponsors 
Create collaborative learning spaces through Communities of Practice around larger grant programs 
Share best practices, sector updates, and resources for managing grants  
The SPO team plays specific roles in the three major phases of grants management: pre-award, post-award (grants management), and close out. The three phases are explained here and include resources, training/technical assistance, and required guidance.   
Contact Us: Please email statewide-sponsoredprograms@ivytech.edu with any questions.
ROLES & RESPONSIBILITIES ACROSS IVY TECH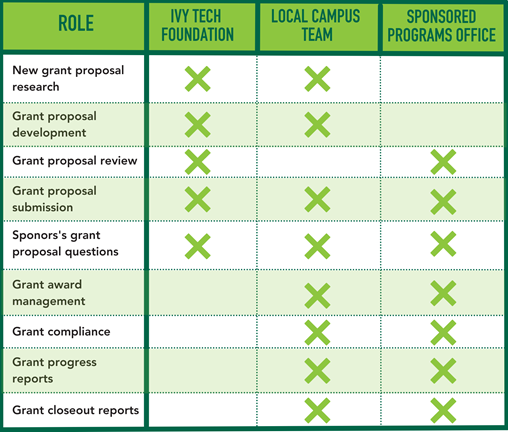 The Sponsored Programs Office team works in tandem with campuses and the Ivy Tech Foundation throughout the grant life cycle. For more information about the Ivy Tech Foundation, please visit the website.
The Roles & Responsibilities table lays out the typical responsible parties for each task in the grant application and management process.
When a grant is awarded to a specific campus, that campus' team manages its grant award with support from the SPO team.
The SPO team also manages a portfolio of grants awarded to the Systems Office on behalf of Ivy Tech or multiple campuses.
There are situations where roles are interchangeable, and situations in which all three parties are included.
In everything, communication is key to success!
MEET THE TEAM
ADAM ABNER

Controller

Adam returned to Ivy Tech in September 2021 after serving as Executive Director of Risk Management and Internal Audit at BMV. He had previously spent five years as internal auditor at Ivy Tech. Adam studied Finance and HR at Ball State University and holds a Master of Accounting and Financial Management from DeVry University and is a licensed Certified Public Accountant (CPA.) In his current role, Adam is responsible for leading annual financial statements, tax reporting, implementing GASB standards, coordinating SBOA audits, and grant accounting. He enjoys traveling, having been to over 15 countries, as well as cycling, downhill skiing, games (board and video), and spending time with family.

THERON HARRISON

Billing Specialist, Grants Accounting

Theron joined Ivy Tech in March, 2023 and serves as the Grants Accounting team as Billing Specialist. Theron brings skills and experience to the Sponsored Programs team from working in various Accounts Payable roles at Simon Property Group and, most recently, as a Project Coordinator at Comm-Works. Additionally, Theron earned his Associates of Applied Science from Ivy Tech at the Indianapolis Campus. Theron enjoys live music, poetry, and art as well as cooking and spending time with family.

ELBY (ELSPETH) HILTON

Executive Director Sponsored Programs & Grants Compliance

Elby joined Ivy Tech in October 2021. She graduated from Earlham College and received an MPA from IUPUI. She most recently worked at the Indiana Housing and Community Development Authority (IHCDA), and has experience in private and governmental grant funds, grant application and review processes, compliance and monitoring, training and technical assistance, and operational management. In her current role, Elby ensures Ivy Tech remains in compliance with all grants awarded to the college through a proactive, collaborative, and educational approach. In her free time, Elby loves spending time with her family, reading, and enjoying nature.

BRY HOWARD

Director of Accounting

Bry Howard joined Ivy Tech at the end of 2021. Prior to joining Team Ivy, Bry worked for several public accounting firms, most recently Ehlen Heldmanand Company. Bry holds a bachelor's degree in Accounting and Business Management from Purdue University and is a licensed Certified Public Accountant (CPA.) In his current position, Bry prepares tax filings, helps with annual financial statements, and provides accounting support for Systems Office grants. He enjoys time with his family and being outdoors, including hiking and camping.

SILVIA LUY

Receivables Specialist, Grants Accounting

Silvia joined Ivy Tech in September 2022. She earned her degree in Accounting from the Instituto Tecnologico y de Estudios Superiores de Monterrey.

Before joining Team Ivy, Silvia worked as an administrative assistant and treasurer in the education field, and has also spent time as a corporate tax accountant.

BETSY (ELIZABETH) LUNGWITZ

Grants Officer

Betsy joined Ivy Tech and the Sponsored Programs team in August, 2023 as a Grants Officer. In this role, Betsy oversees a portfolio of campus grants working closely with each campus' Grant Finance Designee.  Prior to joining Ivy Tech, Betsy worked in a variety of clinical research facilities in the field of Neuroscience as she obtained her Ph.D. in Medical Neuroscience from the Indiana University School of Medicine.  Outside of her work at Ivy Tech, Betsy enjoys reading, spending time with family, collecting rocks while enjoying outdoor activities, and roller derby.

ROBERT MYERS

Director of Grants Compliance

Robert joined the Sponsored Programs team in March 2023 as the Director of Grants Compliance. In this role, Robert is responsible for compliance oversight, including desk reviews, conflict of interest, and process improvement. Prior to joining Systems Office, Robert served as the Director of Accounting and Grant Compliance at Ivy Tech Anderson/Muncie/Richmond campuses. He holds a MBA from Western Governors University and has experience as a grants finance designee. Robert enjoys watching movies, traveling, and playing board games.

KELLY PECKHAM

Executive Director of Grants Accounting

Kelly joined Ivy Tech in December 2021 after serving as a budget and finance administrator at Ball State University for over eight years, first in the Center for International Development and then in Sponsored Projects Administration. She also has over a decade of experience in nonprofit finance and operations management as well as direct programming support. She holds a B.A. in Business Administration from Manchester College. In her current role, Kelly is responsible for ensuring college grant fund accounting records are properly maintained and accurate, and oversees all grant billing, receipting, and fiscal reporting activities. Kelly enjoys baking, hiking, kayaking, time with family, and board games (particularly word games like Scrabble and Boggle).

NICHOLE STITT

Assistant Vice President of Sponsored Programs and Project Support Officer

Nichole returned to Ivy Tech in January 2023 after serving as a Senior Consultant with Moser. She has previously spent 7 years as Assistant Vice President of Curriculum at Ivy Tech, primarily working with the School of Health Sciences and Arts, Sciences, and Education. In her current role, Nichole is responsible for leading and overseeing all grants administration and other collegewide initiatives within Business Affairs. Outside of Ivy Tech, Nichole enjoys reading, hiking, and traveling.

JACLYN WENGERD

Director of Grants Management

Jaclyn has been with Ivy Tech's Grant Management team since May 2018. She earned her bachelor's degree in English from IU and is pursuing her master's degree in Library and Information Science. Prior to joining #TeamIvy, Jaclyn worked as a Grant Developer for the City of Indianapolis. In her current position, Jaclyn assists with reviewing grant proposals and helping the central and southern campuses (Bloomington, Columbus, Evansville, Hamilton County, Indianapolis, Lafayette, Lawrenceburg, Madison, Sellersburg and Terre Haute) with all aspects of managing grant awards. Outside of Ivy Tech, Jaclyn enjoys reading, hiking, overly-sweetened coffee, and time with friends and family.

HEATHER VASQUEZ

Grants Officer

Heather joined Ivy Tech in December 2009 and served in a variety of capacities, including IT Procurement/Compliance Specialist, Assistant Director of IT Procurement, Assistant Director of Strategic Sourcing, and recently assumed the responsibilities of Sponsored Programs Grants Officer.  Heather brings skills and experience to the Sponsored Programs team in Workday, Procurement, and Contract Management.  Heather earned her Associate Degree from Ivy Tech. In her spare time, Heather enjoys spending time with her family, playing with her miniature dachshunds, and hiking.
The pre-award process, when a grant application is submitted to a sponsor, sets the stage for successful grant management. This process requires collaboration and review from the Sponsored Programs Office (SPO) and the Ivy Tech Foundation. Team members interested in submitting a grant proposal should connect with the Ivy Tech Foundation and the SPO as soon as they are aware of a grant opportunity.

Ivy Tech's policy is that all grants are submitted to the SPO for review and feedback at least two weeks prior to the grant due date. This deadline provides the SPO enough time to go through the required review processes, respond to applications and ensure submitted proposals are high-quality and financially viable.

In late spring 2022, the SPO and Ivy Tech Foundation clarified the grant submissions and approvals policy.

Highlights of the policy include:

All proposals must be submitted no later than 9am Eastern two weeks prior to the sponsor's grant proposal deadline.
The complete, final application packet must be submitted by 9am Eastern five full business days prior to the grant deadline for final compliance review.
Private grants under $30,000, concept papers, and letters of intent will no longer require Systems Office Foundation and SPO pre-approval and review. The Foundation will still require a copy of the final, completed versions for grant tracking purposes.
All grant award notifications, letters, agreements, or contracts (regardless of dollar amount or funder) should still be sent to the SPO and Foundation teams.


The full policy is available in the Financial Management Manual.

Indirect Cost Rate
Ivy Tech recently received an updated federally approved Negotiated Indirect Cost Rate Agreement ('NICRA' or 'IDC') that will go into effect on Friday, July 1, 2022. The rate will change from 50% to 53% of all salaries and wages.

Please review the Memorandum sent out June 27, 2022 for more details.